Helen Downie
Portfolio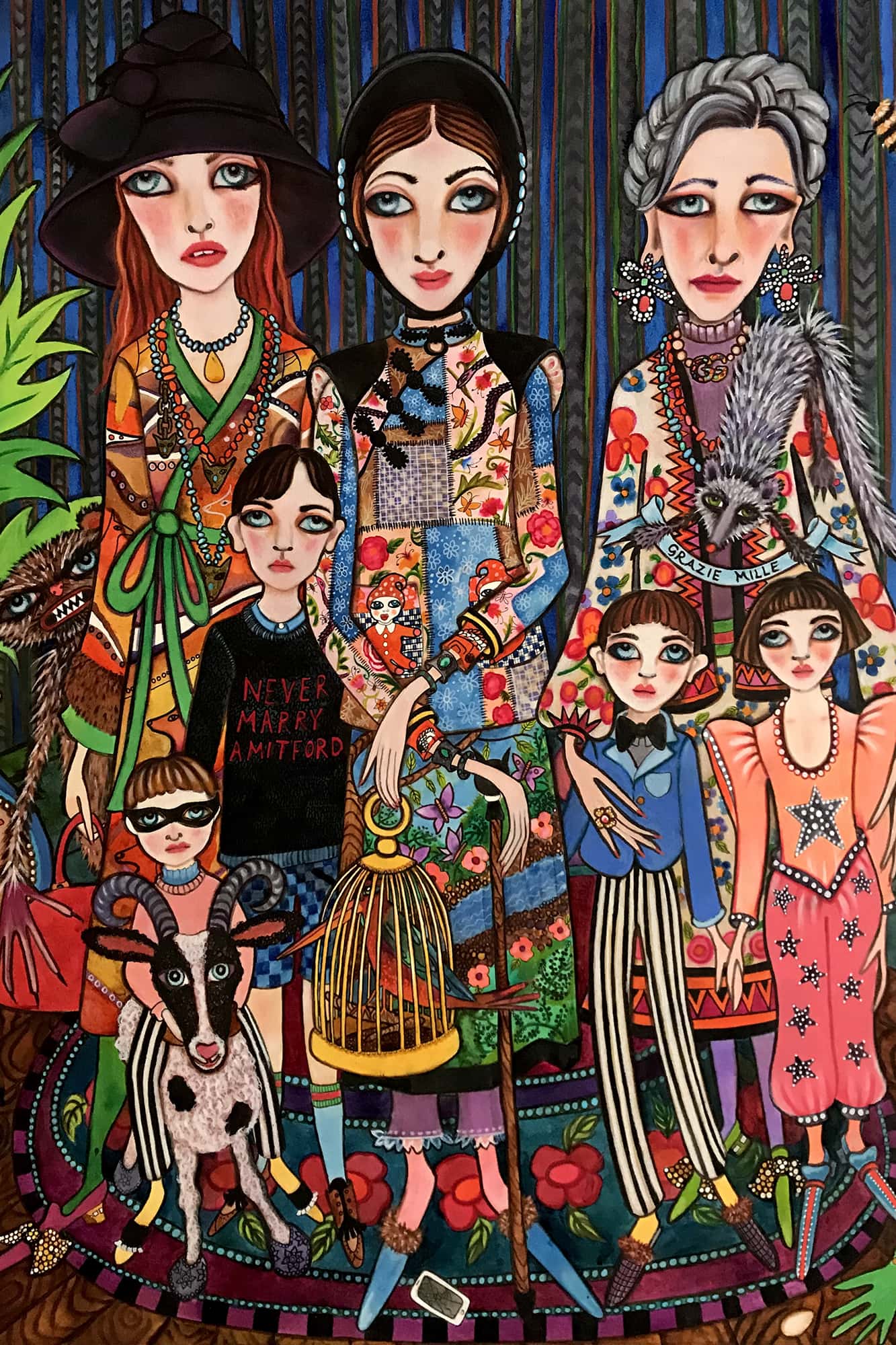 This portfolio is dedicated to Helen Downie for a specific reason. Actually two. Because her art expresses the fantasy and surreal world that inhabits the soul
of every child (and every person who does not forget the child who once was), and because she often tells the story of a family.
A family that represents exactly what we, at Scimparello, believe in and could be the family you were born into but also the one you choose.
And, together with the family, the nature. The colorful, vital, affective nature that is mother and sister of all human beings.
We want to tell the story of the world as we like to believe it is, and Helen Downie's works do it for us. Her canvases are like fairy tales from other times that always have a deeper meaning than what appears at first sight. Observing them means immersing yourself in your own imagination, in that most secret and fascinating part of you that only beauty can bring out.
There are details in her works, that at first you don't even notice, but if you go looking for them, make you reflect and always reveal something about yourself. Something that has mostly to do with an emotion you knew you had inside, but you didn't know how to get out. There is something so pure and uncontaminated in her art that without you noticing, you find yourself with a smile on your face, or moved to tears. Just like when you were akid, and it was easier to get caught up in emotions. Helen Downie started painting late, almost as a joke, she thought that after a short time she would stop,
instead she was overwhelmed, like when you fall in love and you can't think of anything else. So, at least, she reported in many interviews. And also that, due to her shyness and the need to overcome the fear of failing, at the beginning of her career she often painted imagining that no one would ever see her work.
She finds inspiration in things she meets everywhere: in the kitchen drawers as well as in a dream. And what sustains her, when she finds herself insecure in
front of a new painting yet to begin, it is the certainty that whatever she decides to paint that day, it will be something never seen before and never exactly reproducible. Something as unique as a person's voice or the clouds in the sky. And perhaps it is precisely this idea of life, so feminine and reassuring, that has conquered us definitively. We immediately felt it, this kind of sensitivity, in her works.
Many international magazines have spoken about HelenDownie (aka the UnskilledWorker), including Artnet, TheNew York Times, Vanity Fair, Vogue, Dazed, i-D and Harper's Bazaar Art, that has counted her among the seven leading contemporary artists. Her paintings have been exhibited
in the most important galleries in London, Hong Kong, Seoul, Madrid, Tokyo and Shanghai, where she presented a series of
portraits made for Gucci.