Mezzanotte
Milan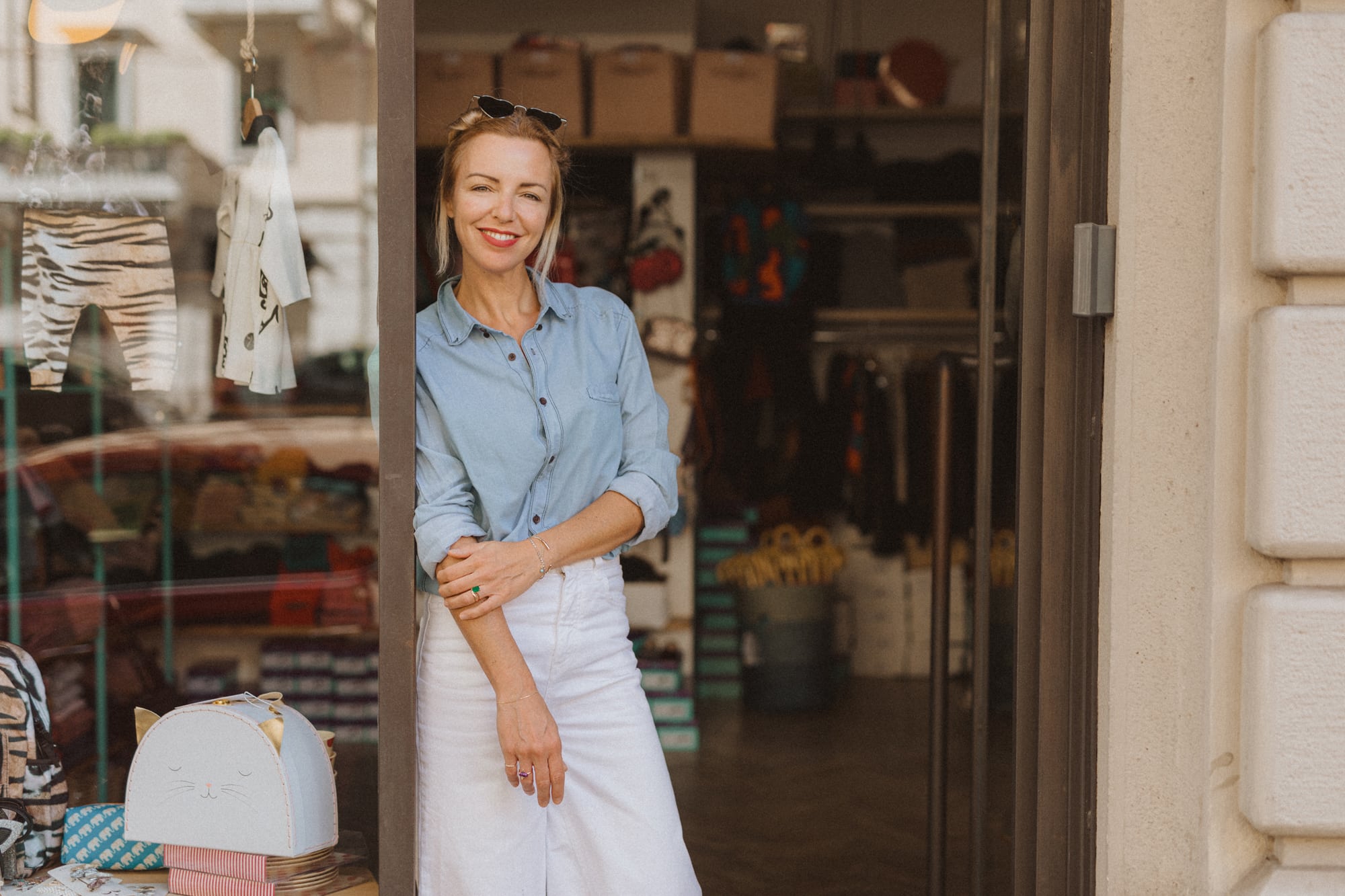 illustration Rossella Ferrario
text Patrizia Mezzanzanica
There are many reasons that make the Mezzanotte store in Milan a very special place: a sought-after selection of brands, a bright and welcoming location right in the center of the city, dedicated assistance to fulfill, and prevent, every customer's, a range of outfits that includes newborns, boys and girls and even mothers, an accurate e-commerce, but, above all, the passion and taste of Barbara Mezzanotte who, of this beautiful reality, is the creator.
It is she, in fact, who has been dictating the style of the store for eleven years, since she became a mom to Leo and then Olivia. New and unique outfits, comfortable, fun and decidedly contemporary, in line with the taste of the world's curious new moms who want originality and quality for their children.
Molo, Bellerose, Bobo Choses, Mini Rodini, Emile et Ida and many others: these are the winning choices of Mezzanotte store that make it an important reference point of kid fashion in Milan and beyond.
Barbara, where do you find the most inspiration for researching new brands?
Travel is definitely an endless source of inspiration. The Marais and Saint Germain neighborhoods in Paris are a regular stop, and the Playtime fair, for me, remains the fair par excellence where I discover new brands and get inspired by styles and trends, and also take inspiration for my showcases and proposals.
Also in Paris, a trip to Le Bon Marché, in the enfant area, is a must and ideal for feasting my eyes.
And often in the evening, before going to sleep, I take a look at social network to unearth proposals from some boutiques in the northern countries and Copenhagen that always give interesting cues.
The places in Milan dearest to you and your children.
The narrow streets around Via Lincoln, the most colorful street in the city, with its multicolored cottages in pastel shades and flowers on their facades. When I want to get a breath of fresh air from the store, all I need is a 10-minute walk down these streets.
The Institute of the Blind on Via Vivaio, my children's current school so dear to me.
Having a son who loves skateboarding and surfing we spend many afternoons at the Museo del Fumetto park with its skatepark and, in spring/summer, at Idroscalo, at Wakeparadise with its artificial wave.
The Milan Conservatory is a place dear to me for the music it releases and the many afternoons spent listening to the children's choir from the courtyard while I wait for my daughter.
What museums, bookstores, entertainment venues, and restaurants would you recommend to families visiting Milan?
Breakfast at Loste Cafe' with the world's best pan au chocolat and the rice puddings at Pasticceria Sissi with its bucolic dehor. My daughter and I love both.
Rosticceria da Giacomo for lunch, Eremo Cafe' for a special aperitif and absolutely BBQ in Via Sottocorno for dinner, absolutely my heart place with its unique owners.
Another heart street is Via Melzo, always buzzing, with dinner at my little place Røst ideal for cheering up!
La Triennale, which always offers beautiful exhibitions to visit with my children and Sunday brunch in the park.
Fondazione Prada, rainy Sunday stop with snack at Bar Luce.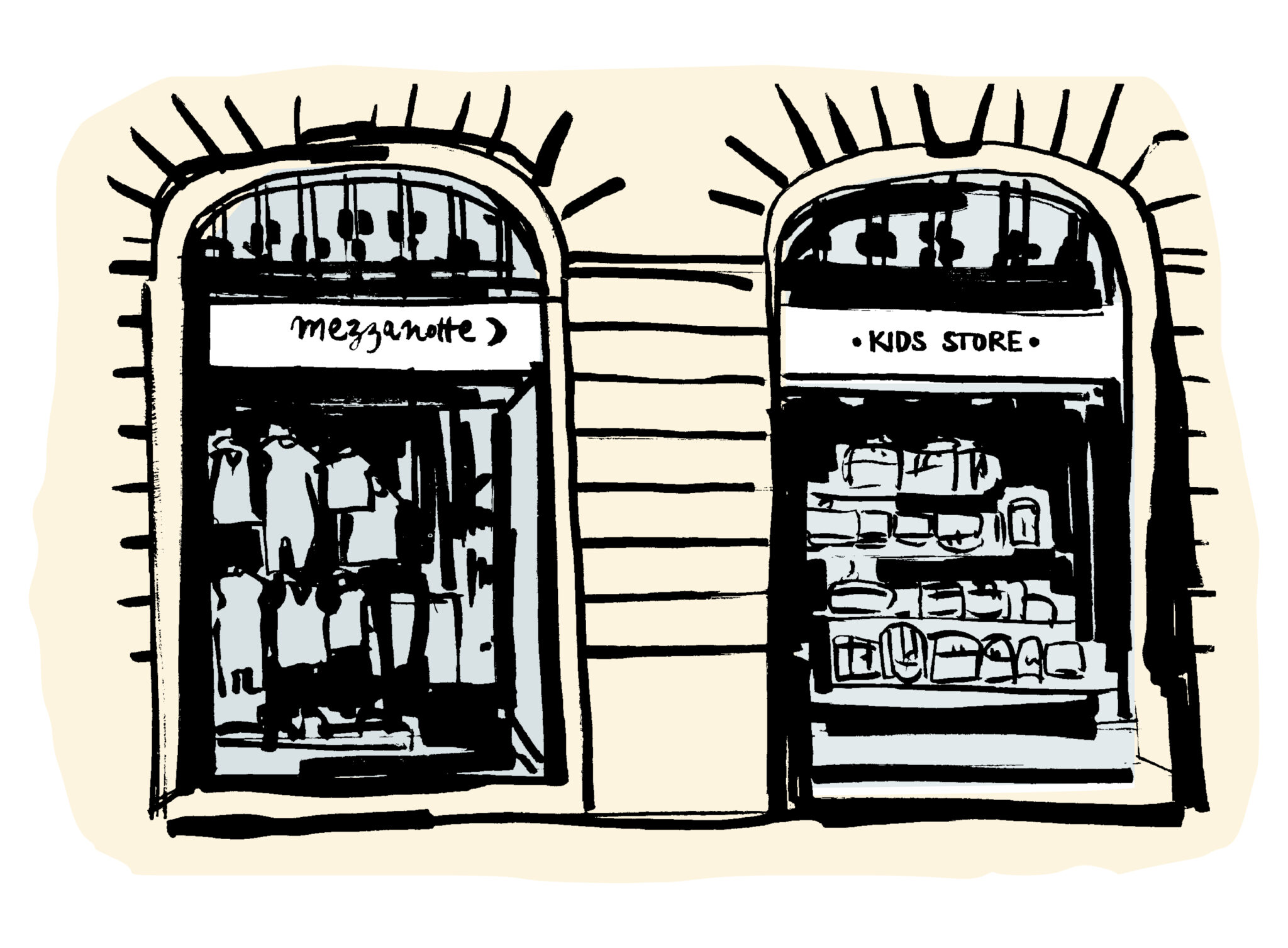 Mezzanotte Store 
Viale Premuda, 13
Milan