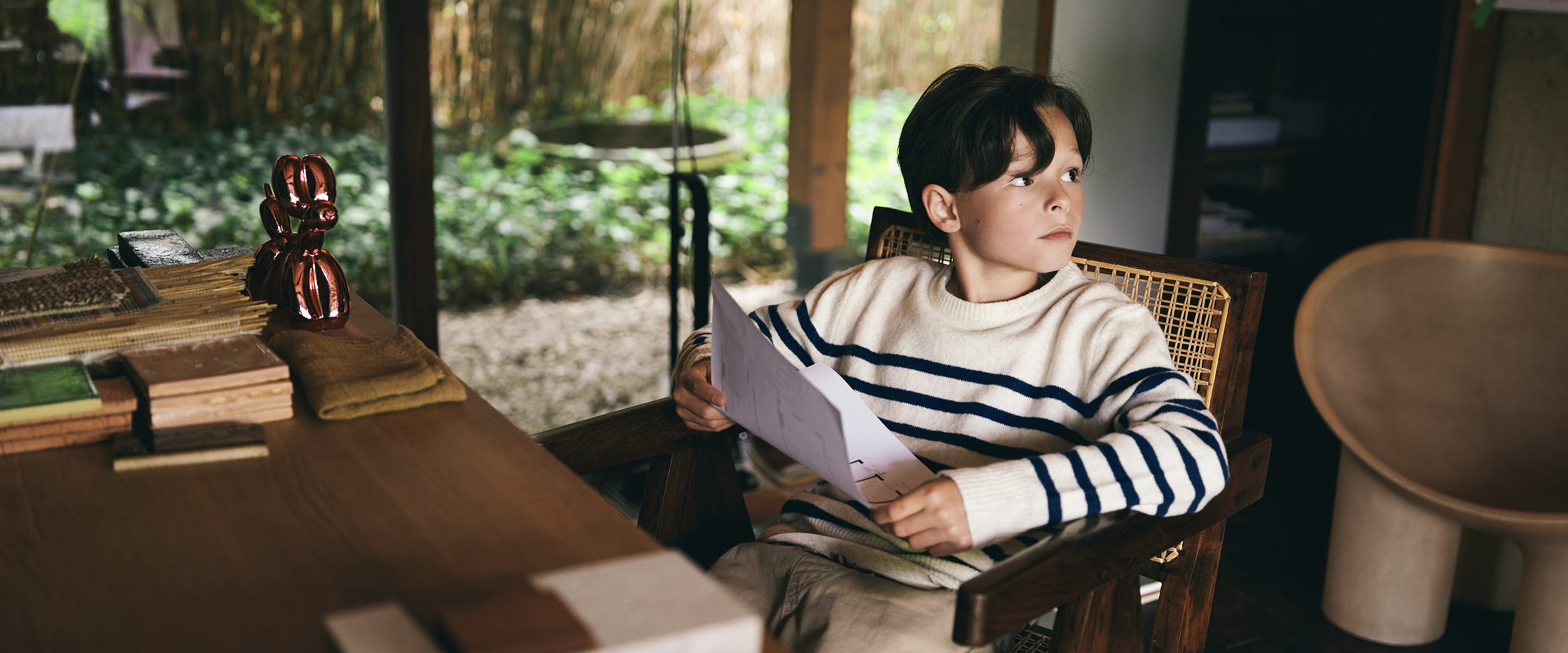 AO76
ref
Villa Arca
This summer 2023 collection is inviting us to be playful, live life and enjoy the highlights. To take action in a positive way and to respect our planet, so we can have a beautiful future together. It embodies our values, be kind, be wise, be fair, be brave, be you !
As always we stand by our roots. We have included a small unit of cool and comfy sportswear. Very junior, hip and trendy minded because of its designs and fluo colours. New are the sporty twinsets in special prints and colours, the hooded t-shirts, artwork techniques and knitting patterns. Its 3 themes, with distinctive atmospheres, brings colour and power to the collection.
About the Brand
WE ARE FAMILY OWNED
The captains of the AO76 ship are 'Patricia Vandemoortele & Gaspard Poelman', mother and son with great talent and style. Together they uplifted the company of their (grand)father 'Etienne Vandemoortele' to a brand and established value in the Belgian
fashion market. Patricia's son Gaspard, recently joined them to follow in their footsteps and lead AO76 into the future.
WE DESIGN IN BELGIUM
We are a small local fashion brand, founded in Heusden and rooted in Nazareth, nearby Ghent. Every single piece runs through a unique authentic design proces taking place one hundred percent in house. Occasionally we co-work together with young Belgian artists for a special Art work print or new inspiration.
WE STAY TRUE TO OUR ROOTS
In the golden seventies sportswear hit the streets of America and colored the fashion industry big time! In 1976 Etienne Van De Moortele started importing these USA sports brands to Belgium, as one of the very first in the branche. Today we still have a lot of casual, easy- to-wear sportswear in our collection.
WE GUARANTEE COMFORTABLE QUALITY
AO76 kids are playful & adventurous. They like to move freely and be comfortable in their outfits. And wish to wear their favorite pieces a lot ! So we create clothes pleasant to the touch and strive for high quality.
WE MAKE BEAUTIFUL DESIGN
We create our own unique fittings, we are passionate in our choose of fabrics and we use special production techniques to lift our product to the next level.
We want kids to shine and feel beautiful in their AO76 outfits.
WE CREATE PLAYFUL ART WORK
We create strong graphic art work and we like our prints to breath out a certain funniness. Our collections are styled with a twist and always contain a lot of special subtle details to make them 'one of a kind'.
WE HAVE STRONG VALUES
Now, more than ever, we know exactly what we stand for. We are kind in our actions, wise in our thoughts, fair in our creations, brave in our adventures and most of all we are just our authentic selves. We love to create beauty and smiles upon kids faces!
More from AO76