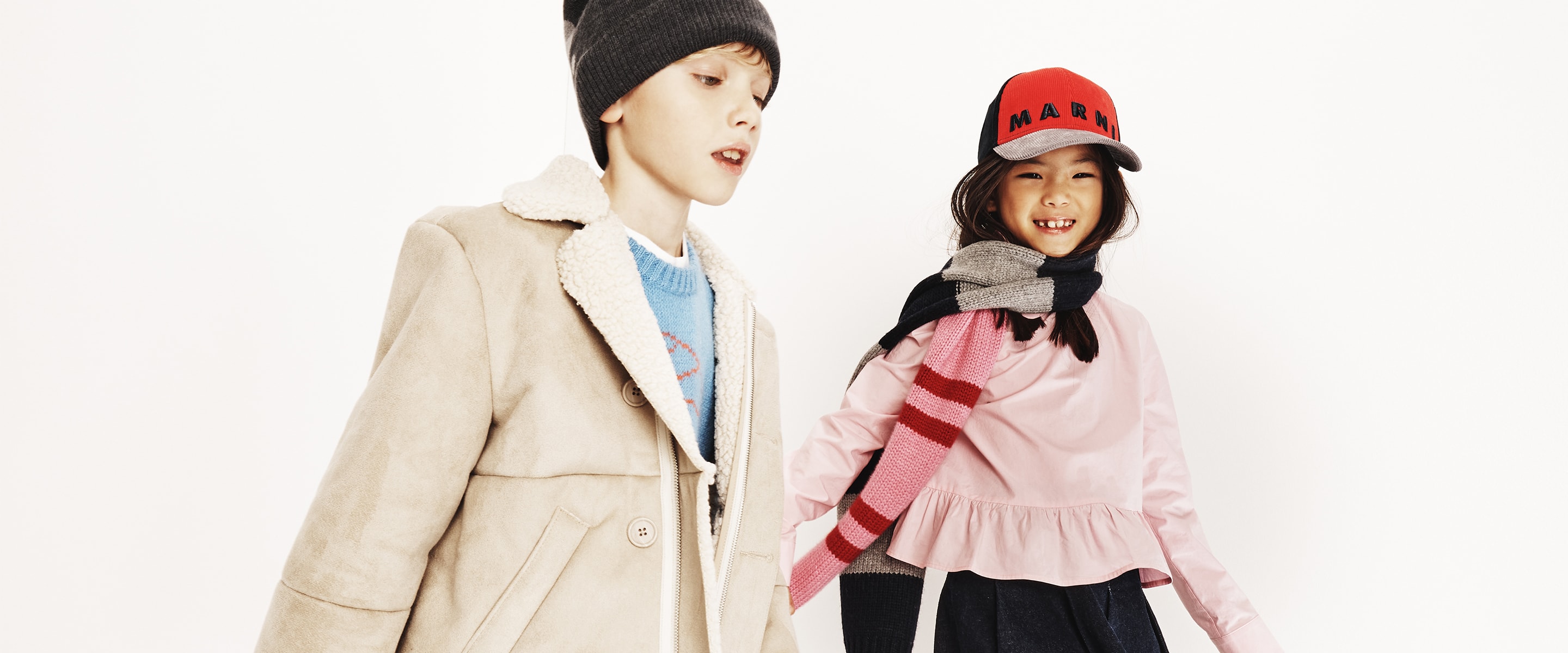 Marni
ref
FW23
Polka dots, concentric circles, logos and all-over check shape a singular tale of prints that transposes a colorful and naïve universe into the KIDS Autumn/Winter 2023 wardrobe. The new collection, for junior girls, boys, and newborns, brings Marni's artistic hand to the stage through daily uniforms, formal looks with a playful character, and a series of unisex mini-me garments inspired by moms' and dads' outfits.
A kaleidoscope of Seventies motifs guides the narrative and mixes circles and spirals with tiny daisies that seem to float free on the garments. Intermixing tones of fuchsia, orange and red, as well as green, purple and lilac, these vintage-inspired prints are featured on jumpsuits, sweaters and plush skirts, as well as on a line of viscose garments with a carefree flair. The combination of swirls and flowers is hand-painted on silver leather jackets, which lend panache to a line of dresses and skirts with an impalpable touch, also featuring the same hand-applied motif.
Winter 2023 is animated by degradé polka dots in a brilliant fuchsia color, which are protagonists of a series of maxi-jumpers, dresses, mini-skirts with ruffles, waistcoats, and crew-neck sweaters inspired by the college universe, designed as a utilitarian yet sophisticated clothing line. The fancy MARNI logos return to the scene, multiplying loudly on unisex jumpsuits, t-shirts, and down jackets, joining together to give shape to a distinctive allover check print that extends across shirts, sweaters, t-shirts, and down jackets.
The collection encompasses a versatile range of faux fur coats, tailored coats with ruffles, denim jackets with faux fur collars, and bold striped teddy coats. Warm mohair, the ever- present fabric in Marni's men's and women's collections, is proposed for the little ones in striped hooded jumpers, and in the form of appliqués on denim jackets, trousers, and miniskirts. Knitwear with a classic character welcomes irregularity, presenting asymmetrical cuts and contrasting thread embroideries.
The series designed for newborns consists of dresses, shirts, and jumpers accentuated by a romantic hand-embroidered Marni logo, and warm cashmere and wool suits embellished with a sophisticated floral jacquard pattern. Dot prints combined with nature-inspired micro-designs distinguish dresses, blouses, sweatshirts, and skirts, lending vibrancy to bodysuits, bibs and hats, stored inside a cute gift box.
Marni girls' wardrobe welcomes new must-have accessories, such as the iconic Trunk Bag and the mini-me Tropicalia Bag, reverberating the mother's bags. They are joined by the colorful Basket Bag and the hand-woven Pod Bag as well as the new Dot Bag and Diamond Bag in wool crochet with a diamond pattern.
About the Brand
Founded in 1994, Marni is recognized as the most artistic, color-savvy, life embracing, off- beat brand in the luxury segment. Renowned for its subversive collections, Marni has consistently challenged the traditional codes of fashion and the seriousness of dressing up, celebrating individuality through its distinctive approach to materials and colors, combined with a unique taste for prints and shapes. The aesthetic paradigm mirrors the vision of creative director Francesco Risso: Marni's quirky elegance is a range of possibilities, a lifestyle with an avant-garde spirit that holds a constant dialogue with the world of art, finding ultimate expression in special collaborations and capsule collections.