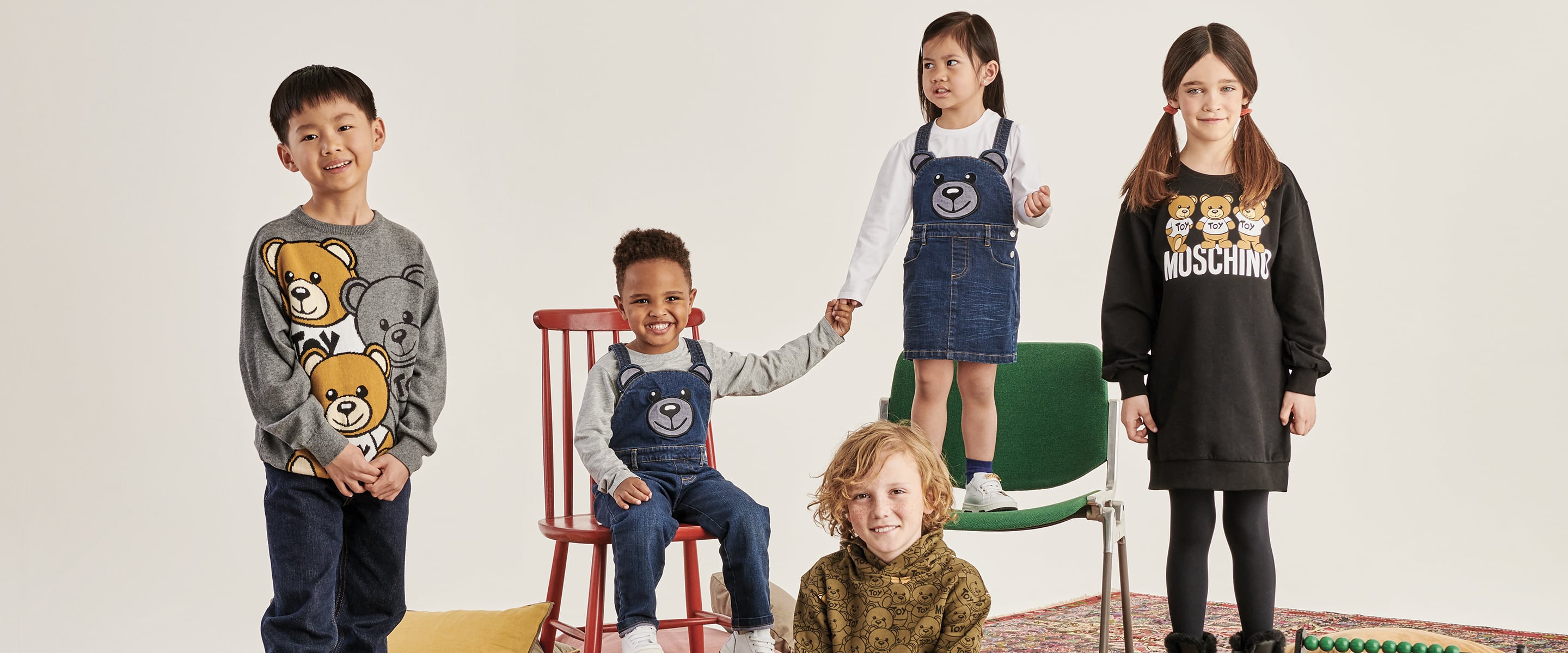 Moschino Baby Kid Teen
ref
The "mini me" looks are the core selection of the collection.
Sewing-themed designs and all-over prints for girls recall the women's clothing collection, where scissors, reels of thread and tape measures are mixed to create a romantic allegorical motif.
The knitwear collection includes oversized cardigans, waistcoats, and outfits in neutral and warm colour shades. An explosion of bright colours can be seen instead in punto Milano jersey patterned outfits, with a profusion of rhinestone hearts surrounding the Moschino logo.
The heart, Moschino's iconic symbol, is also the distinctive feature on the footwear collection, both as a patent leather maxi-patch decorated with a contrasting embroidered logo, and as a small, enamelled metal or gilded stud.
The sporty proposal for boys includes a selection of sweaters and t-shirts decorated with biker- themed motifs.
Get ready for the college: camouflage patterns and the varsity version of the Moschino logo decorate fleeces and tees for teenagers. The colour palette gets wider: it is lighted up with orange and acid yellow, in contrast with the more classic black, burgundy and army green.
Faux-fur coats are made to be comfortable and warm even on the coldest days.
A special attention has been paid to the selection of fabrics: ranging from flannel shirts to canvas jackets, Glen plaid for the pleated skirts and the mini dresses, as well as velvet and taffeta in outfits designed for the special occasions.
For this season, the iconic teddy bear Toy is featured in the shape of gilded buttons and ironic designs, as a patch and an embroidered logo applied both on sweatshirts and padded jackets.
It also becomes a high-frequency funny patch, or an all-over artwork created with heat sealed studs outlining the silhouette of the shoes.
About the Brand
Starting from the Autumn/Winter 2023 season, Moschino S.p.A. and Altana S.r.l. will merge into Moschino Kids S.r.l.
The new subsidiary will create and manufacture the Moschino Baby Kid Teen clothing line featuring a new
and even more contemporary look.
The footwear collection continues its license agreement with Montelpare S.p.A.