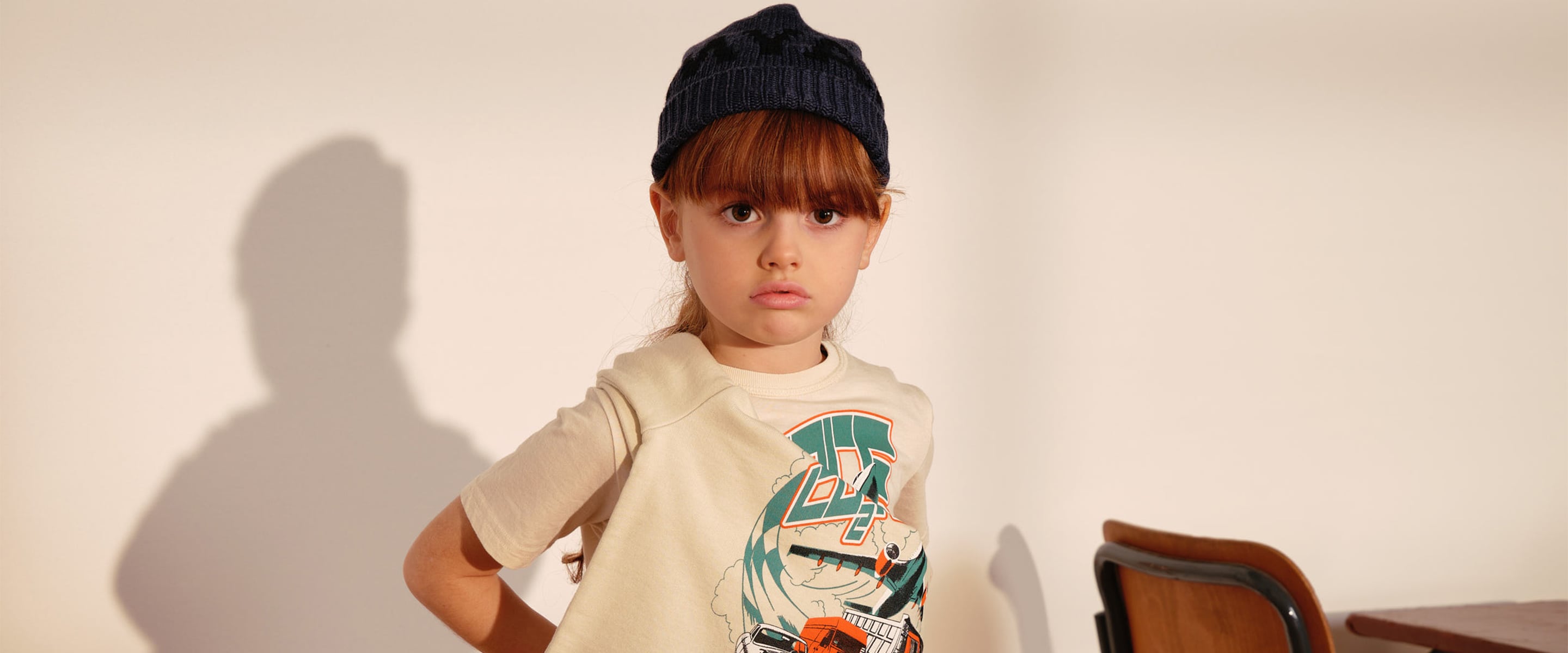 Myar
ref
FW23
MYAR KIDS continues to embrace an educational approach, aimed at raising awareness among children and their parents about climate change and its impact on the environment.
In particular, with the Fall/Winter 2023 collection, the brand puts the focus on what's behind global warming.
Factories, power plants, cars, airplanes, chemicals and intensive farming are some of the causes of air pollution that MYAR KIDS clearly shows through the allover hand- drawn graphics splashed on a range of pieces, including cotton T-shirts, sweatshirts, fleece pants and knitted sweaters. The wording "Recycling-Upcycling", graphically encapsulated in the infinity symbol, adds a positive message to convince parents that this approach is mandatory and to push looking at a more responsible lifestyle.
At the same time, a selection of T-shirts and sweatshirts show a colorful print with polluting transportation means, including cars, trucks and an airplane, symbolizing the death race that will lead to the destruction of our ecosystem.
In keeping with its signature sartorial approach to upcycling, MYAR KIDS also presents a range of items, such as a trench coat, hoodies, joggers and shirts, enriched with paneling and functional multi pockets crafted from deadstock pixel camouflage fabrics from the Italian army's vintage uniforms.
Stressing the attention to high-end craftsmanship, a padded jacket and a vest with squared quilting are garment dyed with natural pigments to create charming color effects, while a padded bomber crafted from a ripstop fabric is decorated with an original compass pocket on the left sleeve.
A new entry in the brand' offering, the denim line, crafted from deadstock fabrics, includes jeans, shirts and overalls, coming in a mélange gray tone or in indigo, punctuated by black stitching and embellished with an emblem. Inspired by American army's uniforms, that features the MYAR logo matching with the image of our planet, Venice's iconic lion and a needle, symbolizing the brand's sartorial spirit.
Always present in the labels' assortment, the cotton fleece range, showing T-shirts, sweatshirts and joggers, all printed with the MYAR logo, comes in new shades of sorbets, such peach orange and pistachio green, as well as in more traditional gray, blue and burgundy.
About the Brand
In 2021, MYAR announced the lunch of MYAR Kids, the brand's new childrenswear line: a line of unisex clothing for boys and girls aged between 4 and 12, which become the young army fighting for a more responsible future. Each item is unique and limited edition. All MYAR garments, in fact, are the result of an upcycling process which, through creative recycling, breathes new life into fabric scraps and leftovers from, among others, the various companies that are part of OTB Group. Moms and dads let's make the difference together!