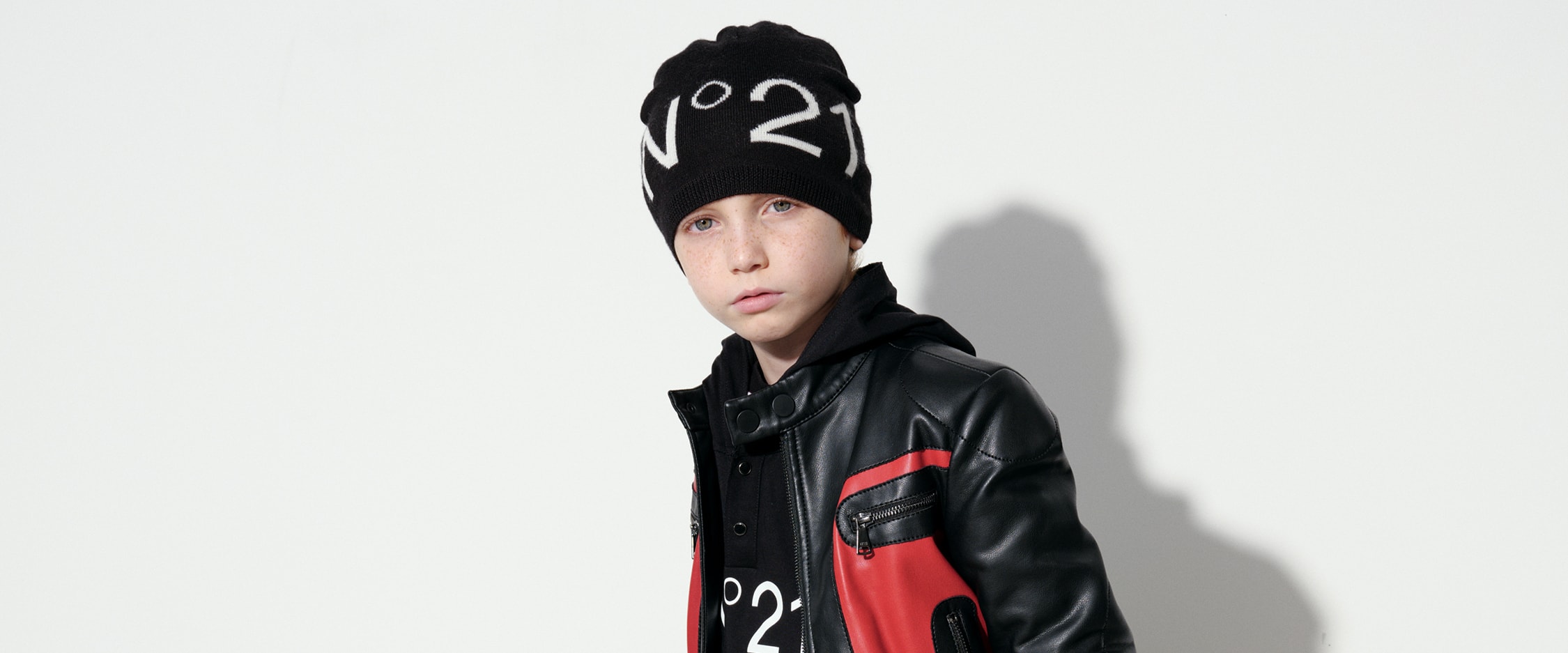 N°21
ref
Get ready to dive into the winter vibes with the N°21 Kids crew, where a dash of rebelliousness meets a whole lot of fun. Winter's chill doesn't faze these youngsters as they embrace the season with a carefree and independent spirit. Because let's face it, there's always room for a touch of adventure, even in the daily grind.
The young girls are channeling a revamped 90s grunge vibe, but guess what? It's shedding those darker tones and making room for an irresistible color palette. We're talking about a spectrum that spans from a mix of red and black to shades of bubblegum pink, strawberry, banana yellow, baby blue, and icy white.
Just like their moms, these kids are rocking oversized teddy fur coats and urban puffer jackets with oversized silhouettes. Oh, and let's not forget about the chessboard-patterned outfits that bring a touch of masculine flair, creating a fascinating contrast with the ultra-feminine flowy dresses adorned with floral prints.
When it comes to knitwear, the striped and mohair net-effect pieces are super cozy. And don't you worry, that grunge spirit lingering in the collection also finds its way into denim offerings. We're talking slouchy pants and skirts paired up with star-printed sweatshirts that have a seriously pop vibe.
Precious details sprinkle a touch of shimmer onto the dresses and tiny cardigans. And check this out – glossy sequins create a shiny effect on the mini dresses, which are elegantly draped with oversized capes featuring the signature logo patches.
The young adventurers of N°21 Kids are boldly striding forward, unafraid, flaunting sweatshirts featuring prints inspired by the "Jurassic Park" universe. Cargo pants and technical-effect parkas are their armor of choice.
Cotton jersey jackets and pants are printed to mimic denim textures, while the N°21 logo sweatshirts are treated for that lived-in look. Ribbed velvet shirts alternate with nylon bombers and color-blocked leather jackets, while the knitwear unveils multicolored stripes or "Jurassic" graphics.
Baseball caps and knit beanies are in the mix, along with oversized scarves, backpacks, pouches, and bags of various sizes – all completing the collection for kids who fearlessly take on the world.
About the Brand
In November 2018, N°21 fashion brand created and directed by Alessandro Dell'Acqua, and Brave Kid, announced the signing of a worldwide exclusive licensing agreement for the creation of the N°21 children's line.
For this undertaking, the Italian brand envisioned a "mini me" inflection of its ready-to-wear collections. In particular, its grownup aesthetic takes on a child-friendly connotation, all while maintaining and strengthening the brand's DNA, namely, N°21's signature use of unusual material mixes and fusion of masculine/feminine elements. At the same time, all items meet the needs of comfort and wearability, which are typical of kids' clothing.