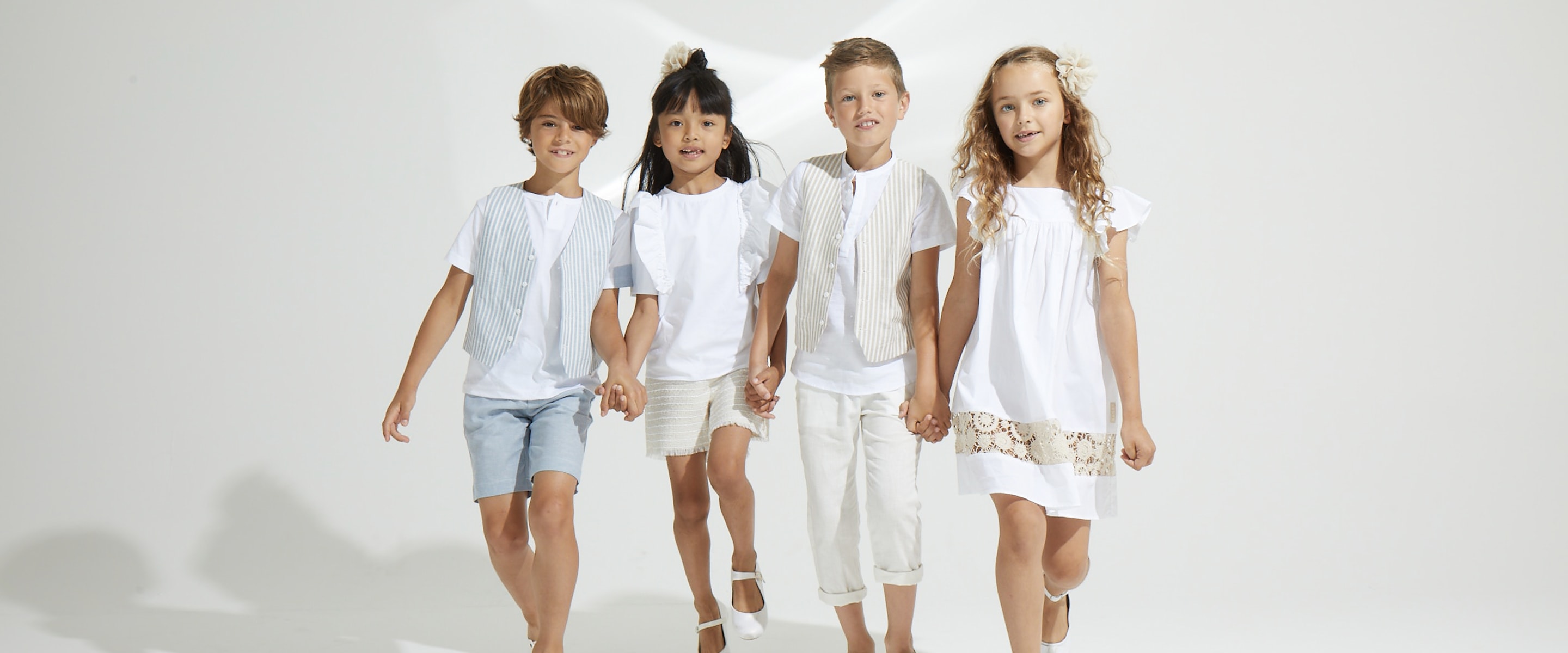 NÀNAN
ref
The Nursery line, designed for the first months of life, adds a fashionable touch to the comfort of garments such as pajamas, rompers, and onesies: the exquisite jersey fabrics are adorned with playful patterns, stripes, and colors, while the more classic collections of the first little shirts are embellished with modern stitches and details.
References to cuddles are not lacking, a mood that all mothers agree on, regardless of their attitude, when choosing clothes for their babies: the iconic Teddy Bear Tato embroidered with thread and the patterns of stars and hearts add further tenderness to the outfits, thanks to the delicate pastel textures of pink, blue, white, and beige.
The Layette line, from 6 months to 10 years old, blossoms with a focus on nature, liveliness, and vacation: the inspiration is always the child's world and their interaction with the surrounding environment. That's why the proposed looks evoke carefree beach scenarios and eco-resorts, recalling the chromatic notes of wood and grass, the shades of the sea and the sky, with bright contrasts of chalk white and milk.
About the Brand
Nanàn is one of the leading brands in the world of childhood. It's where parents' needs meet children's dreams. Nanán is renowned for its furniture, fabrics, clothing lines, cosmetic products, and much more; all developed with consideration for the needs of children and their mothers.
The company was founded in 1992 under the name Creazioni Franca srl, stemming from the hopes and dreams of entrepreneur Franca Mentana. Since 2006, the company has experienced exponential growth, leading to the opening of its first flagship store in Milan in 2008, followed by openings in Rome, Ravenna, Tirana, Vienna, Tokyo, and Kuwait. In June 2020, FL fashion sold the majority stake to Annabelle Holding, owned by Nicola Bulgari. The company is now led by Luca Benigni as CEO, Claudio Pizzolato as Attorney, and Catrinel Marlon as Artistic Director.
More from Nanàn