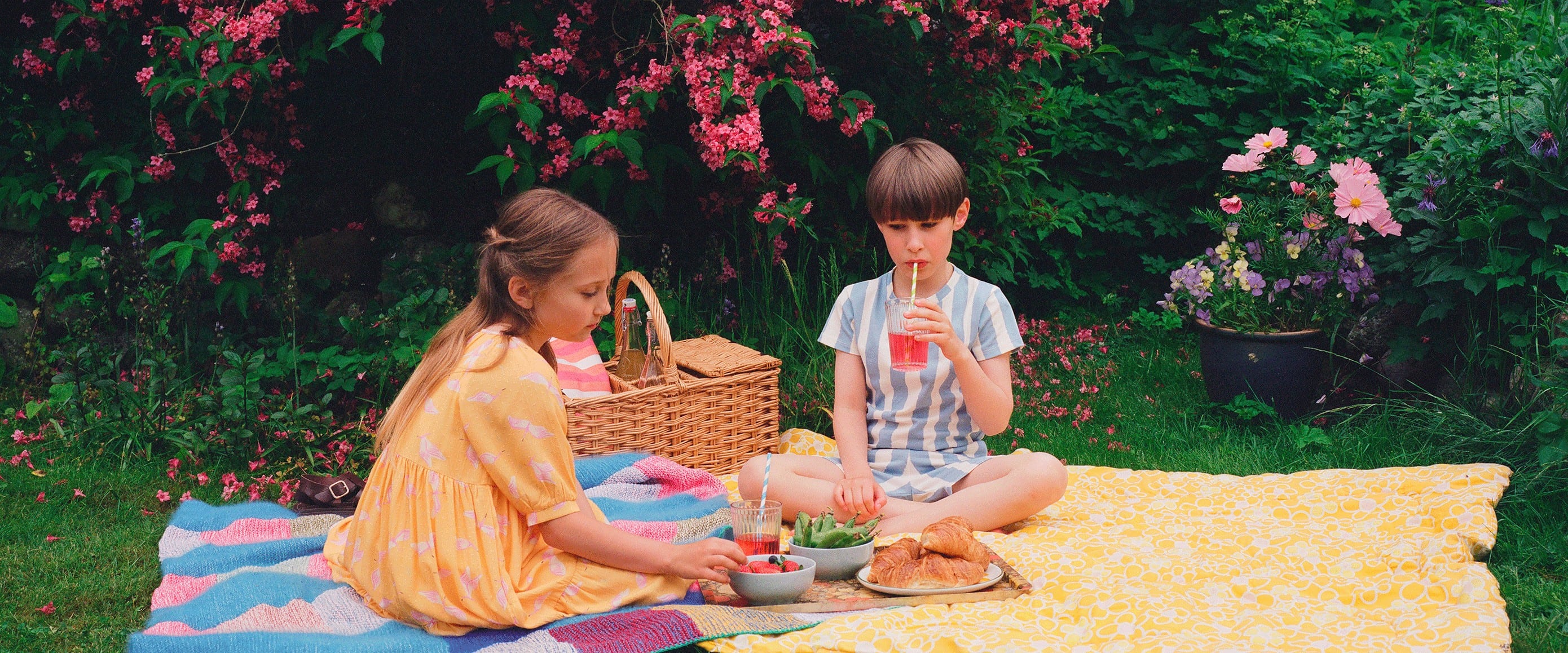 Soft Gallery
ref
Garden Nostalgia SS23
Garden Nostalgia – the Spring-Summer 2023 collection from soft gallery – invites you to step into a nostalgic and peaceful mood of building childhood memories from warm days in the garden. Supporting the trend of the time we live in, being a friend of nature and appreciating the small things in life.
Get up early at the crow of the rooster as the rising sun paints the sky in a beautiful palette of red, pink, yellow and orange. Birds singing summer tunes and flying high in the crispy blue sky. Ignite your curiosity and look closely at the small creatures that makes the garden full of life.
The busy insects and beautiful butterflies buzz and fly around in the warm sunlight and soft summer breeze. Every once in a while, they take a well-deserved rest on the green grass or majestic range of colourful flowers.
Pick your own blueberries and sunwarm peas. Dig up radishes from the unspoiled soil and find yourself competing with the colourful caterpillars that have already started the feast. Or take it easy as the snails that move slowly towards the next meal and have all the time in the world.
Spread out your favourite blanket, look up in the sky and feel the sun kiss your skin. Cool down and reload with fresh juice, sweet jam on croissants and homemade sandwiches.
About the Brand
Since 2007, Soft Gallery has created poetic luxury clothing and accessories for children from baby to young teen. We strive to bring art to children's level and pass on wonderful, inspiring stories through children's fashion with an artistic twist.
Our designs are honest, timeless, and personal. We design with our intuition, and we use balanced colours and remarkable details to create the most unique items. Everything we put into soft gallery spring from our hearts, and our wish to share something extraordinary. Each collection is built on a unique story inspired by our memories and fantasies. Together with artists from all over the world, we bring every item to life with unique prints and embroideries drawn by hand.
soft gallery focuses on creating high quality materials, comfortable silhouettes and long-lasting clothes with stories that can be passed over to loved ones from generation to generation. We are proud to have a wide range of organic cotton styles, as well as GOTS-certified styles that comply with strict requirements to safeguard both humans and the environment.
soft gallery collections include a baby collection covering sizes 3-24 months, and a children collection covering sizes from 3-14 years. The collections feature an exclusive range of tops, bottoms, accessories, outerwear, swimwear, nightwear and underwear for boys and girls. Additionally, soft gallery has a continuous NOOS ('Never-Out-Of-Stock') collection with timeless essentials that easily mix and match. Featuring both basics and prints used across various pieces – from clothes to bed linen and nursey items. For example, our beloved and iconic owl print.