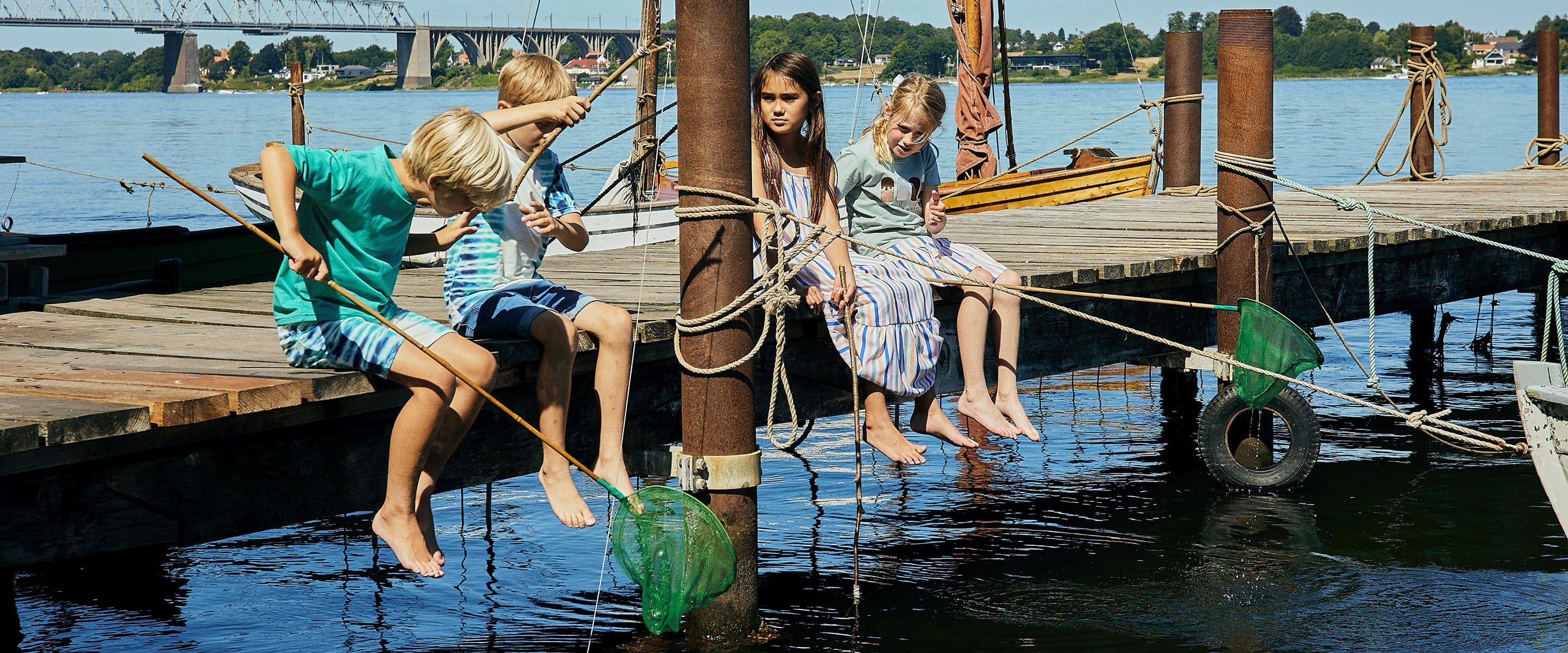 The New
ref
Summer 23
The Summer 23 collections from THE NEW and THE NEW siblings invite you to jump onboard and sail into the horizon, where new adventures await. Join the clever crew in stripes and get ready to handle the ropes, while playful dolphins send you off with high spirits. Soon you will feel the strength that comes from acting in unity.
Go below the surface and take in our beautiful blue planet in all its wonder. Colourful corals set the stage for a vibrant playground, where everyone from the largest shark to the smallest algae belong and play a part in a harmonious symphony.
Drop the anchor on a tropical island and cool down with your toes in the sand and ice cream in your hand. Overlooking the breath-taking sunset and hoping that summer will never end!
About the Brand
THE NEW was founded in 2016, fueled by a desire to inspire new generations to meet the world with confidence, open arms, and great style. Each collection brings world topics to the children's level with a playful and stylish touch, while trusting in children's power to make the world a better place. We hope to encourage children to stand united in peace and embrace diversity. To cheer on a new dawn of girl power and sisterhood. Or fight for the awareness of our beloved, yet endangered animals. Showing children that it is okay to disrupt the norms and take on a new path. The sun will always rise again and bring new opportunities.
THE NEW loves to play and explore a variety of styles and fittings, while also updating the well-known bestselling styles. Across all styles, we continuously improve fittings and qualities to create better even products for our customers. We are also introducing more oversize and unisex designs, which will extend the usage of the clothes. We use organic cotton, livaeco viscose and recycled polyester in most of our products, and we strive to do even better with each collection. We are proud to introduce our first GOTS- certified styles in 2023.
THE NEW designs fashion for children at age 3-16 years. The collections feature a variety of tops, bottoms, outerwear, swimwear, nightwear, underwear, and accessories for both boys and girls. In addition to the seasonal fashion styles, THE NEW has a continuous NOOS ('Never-Out-Of-Stock') collection with timeless basics, mainly pants, jeans, and tees.
THE NEW siblings was added to our family in 2021, as a mini brand for babies and toddlers up to 3 years- old. THE NEW siblings is built on our familiar design DNA and offers a wide range of soft and comfortable everyday styles, formal wear and accessories.
Like any other sibling, this one is also developing a personality of its own, as it grows. Comfort, quality, and playfulness are the key pillars of the collections. Only the best is good enough for our little ones, so the materials are carefully selected. Most styles in the collections are made in organic cotton and GOTScertified to give parents ease of mind, in knowing that no harmful chemicals were used in the production of their baby's cute little outfit. Children grow fast, but we want to make long lasting garments that can be passed on and give more than just one child the freedom to play and explore.
THE NEW siblings designs fashion in sizes 56-104 cm. The collections feature a variety of tops, bottoms, one-pieces, accessories, and bed linen for both boys and girls. More and more styles are unisex styles that can easily be paired with the more traditional gender-based styles.