Candela Pelizza
by Enrico Fragale Esposito
"8 o'clock dinner at Candela's!" I read this message, sent to me by our Patricia, as soon as I woke up on a grey Milanese morning and the effect was like that of a coffee. For this issue I had proposed to interview the former model, influencer and now digital entrepreneur from Argentina, but living in Milan for years. I thought it was important to include the voice of someone who, although "Italianised" by a long stay, is not originally from our boot, a mother, to reflect our focus on families, but who denotes style, because we are a fashion magazine after all. My questions were already drafted for a long time, ready to be sent via email, once the whirlwind days of fashion week between Milan and Paris were over. Instead, hospitable as in the best tricolor tradition, Candela opened the door of her apartment to me and added a place at her table as if I were that extra friend from a famous Italian singing tune. Among her family: the determined first-born Verde, the extrovert Celeste and the very nice little Martin.
At the table, no spaghetti, pizza or ravioli stuffed with 'nduja and burrata, which she assures me is his signature dish of the moment, but Indian take-away, French wine and the background of the hostess' Latin-American cadence. But the Italian vibes were everywhere, in the engaging energy that this family creates around itself ("in our independence we are a very strong team" – she will reveal to me later!) and in Candela's motherhood, which is a mix of tenderness, understanding, a few traits of rigor and the propensity to give useful lessons… precious even those on the outfit to wear to school the next day!
Out of professional duty, although I don't think she needs any introduction, I'll introduce her to you, in case there is anyone among the readers who doesn't know Candela (the last name Pelizza is superfluous): she was born in Buenos Aires in 1980 and grew up with her parents and her twin sister, Vanesa – who remained "her corner of Argentina here in Milan". Together with her, when she was seventeen, she moved to Italy and began working as a model. Thanks to her innate style, she became an It-girl and then an Influencer (both with a capital "I" because she was among the first), collaborating with the online magazine Grazia.it and establishing herself as a fashion icon. Distinctive signs that characterize her are blue eyes and the unmissable blond bob. This was followed by collaborations with digital platforms, magazines, brands and a docuseries broadcast on television, until she reached her current role as entrepreneur and digital creator, with a very popular social profile that tells, as the bio says, of "joy love beauty wonder grace creativity at the service of communication through images". Thanks to an account edited in colors and graphics as in a fashion magazine, Candela reveals us her world in which glamour meets the intimacy of her family moments.
But none of this was a topic of conversation during our dinner. We talked about lunar influences and the symbolism of the signs of the zodiac, discussed TV shows that I couldn't say too much about because I missed the last episode (besides, Patricia hadn't even seen the first one because she's always late for the latest releases), Verde's and Celeste's lessons at school, which also included some advice on matters of the heart, and her secrets (which I won't reveal) for better storing flowers in vases. In the end, it was Patricia who brought us back to order (it's her role in the editorial staff as well, an innate characteristic) by reminding us that we were there for an interview, to be done before it was time to put Martin to bed. A few questions to get to know better a sophisticated woman and a wonderful mother who has become Italian by choice.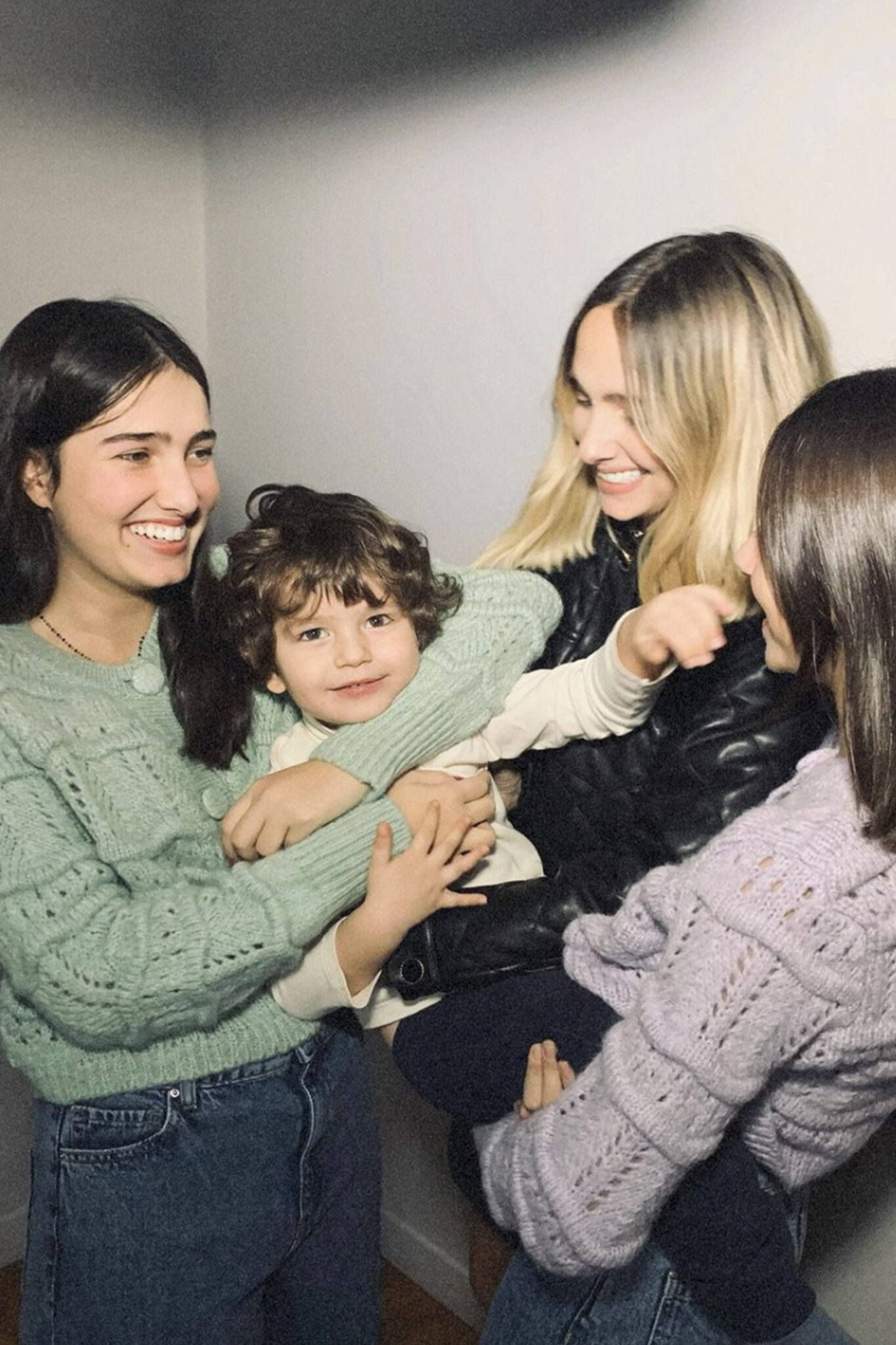 Your first memory related to your arrival in Italy?
I would say the day I set foot here, at Linate airport, together with my sister Vanesa – after what had been our first plane trip. We had left the Argentine winter behind us, and facing the Italian summer. At the exit, the driver and what is still my agent were waiting for us. I will never forget the scene of him following us in a car through the streets of Milan driving a Vespa.
Is there a place here where you find a bit of Argentina?
My sister's house, who unlike me has remained very attached to our origins and traditions. She, her family and her house are my corner of Argentina.
Your favorite Argentine dish vs the Italian one?
The Argentinean one is a savory pie that is prepared at Easter with onions, peppers, olives and mackerel – there are not many typical Argentinean dishes based on fish, but this one is really good and I cook it sometimes. Choosing an Italian dish is not easy, let's say I go by periods: right now my passion is ravioli stuffed with 'nduja and burrata.
Three adjectives to describe Milan.
International, cozy and in the making.
You have 24 free hours with your children. How do you spend the day?
At home, without anyone around, because in our independence we are a very strong team. And without organizing anything, because it is from spontaneity, and sometimes even from boredom, that the best situations come.
A book that children should read?
Little Blue and Little Yellow, which I also read as a little girl. And then a classic: The Little Prince.
A reference store for dressing little ones?
In my case it's the closets of friends who have children the same age as Martin (the youngest at Candela's house). When I have to go shopping, I choose Petit Bateau, Jacadi or Zara Kids.
The best gift you received as a child?
I remember one day waking up and finding something like 8 books as a surprise: they were game-books, the kind where you decide how to continue the plot based on your choice of paragraphs and numbered pages. It was an emotion that has stuck in my memory.
An unmissable stop for those visiting Milan with their children?
Hangar Bicocca, where you can visit both interesting temporary exhibitions and Anselm Kiefer's Seven Heavenly Palaces: they are magical.
Your favorite bar in the city?
The Dhole (Porta Romana area), where I often go to have a moment to myself with a delicious Margarita.
What did you dream of being as a child?
An accountant! I'm light years away from numbers and calculations, let's be clear. The real reason is that my uncle practiced this profession and was the only one in the whole family who took the plane to travel. So I associated the chance to see other places with this trade.
1Vacations in Italy: where would you suggest to spend them?
Sicily: I already know Palermo and Syracuse very well, but I want to discover everything else! With the kids, Apulia too!
Your favorite outfit when you were little?
A look made up of vintage pieces that were totally out of order, which always threw my father off balance.
Which fashion brand would you like to see launch a children's collection?
Loewe, without a doubt!
You are friends with our Managing Editor Patricia. Can you tell us a particular episode that links you to her?
I definitely have some fun but vague memories of a girls' trip we took to Los Angeles, where I dragged her to the flea market to buy vintage clothes. But a special moment was the day I caught a glimpse of her on the street – after not seeing each other for a while – and from the first glance I knew she was pregnant, even though she was only in her second month and showed no signs of pregnancy yet. This episode explains how ours is a bond that I would define as energetic.