Deborah Medhurst & Ric Ramswell
text Enrico Fragale Esposito
Fashion and Art, what a pair! This was first demonstrated to us by Schiaparelli, whose flair met Dali, then Yves Saint Laurent who paid homage to Mondrian, and recently Vuitton's collaborations with Koons and Kusama. If we had to choose to add one from our industry to these big names, we would have no doubt: The Middle Daughter. The UK brand created by the duo Deborah and Ric (business and de facto couple) speaks the language of Creativity and its vocabularies are prints, fabrics and design. Each collection starts from a mix of inspirations in which art is never lacking; in the SS23 it is the Arts&Crafts movement together with the Hellenic tradition that is the fil rouge linking the season's garments. In addition to the story told through the clothes, there is also the one on Instagram, in whose gallery (that's exactly the right word here) there are recurring Art Posts that guide us to the discovery of new and interesting works. The whole thing becomes the most beautiful Art History lesson we will ever witness. Add to that a past spent organising Truman Capote-style parties, and you'll understand why we couldn't pass up the chance to chat with Deborah & Ric.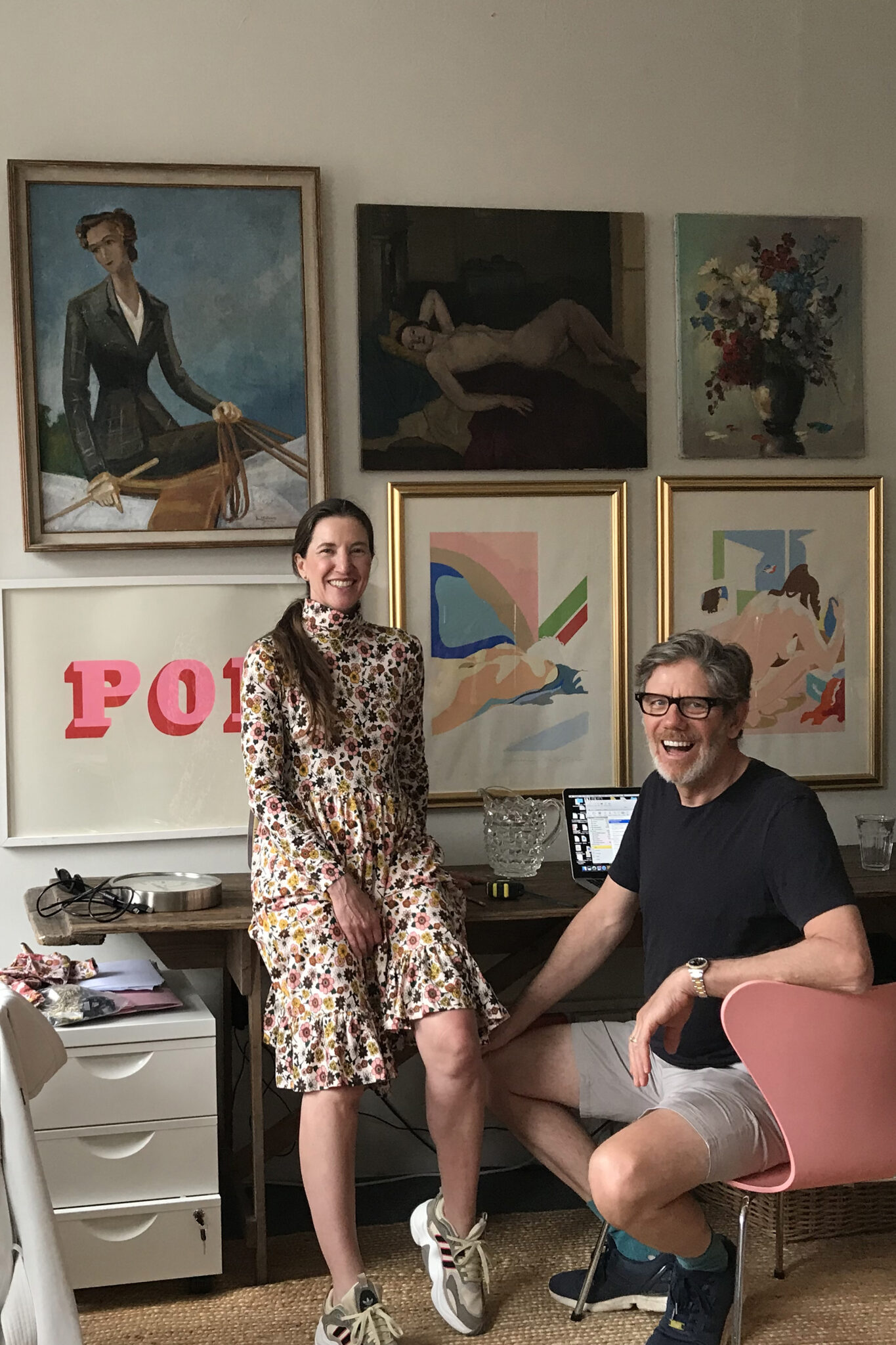 How did you and Ric meet? 
We met at an illegal party in the back of a disused shop in North London. It was around 4 in the morning. The attraction was instant, we decided to get married within a few weeks. Our romance has ensued ever since.
And if you had to imagine your first meeting imprinted on a canvas, who would you like to have painted it?
The illustrator Jason Brooks was the artist who created all our party flyers for almost a decade. Brook depicted impossibly gorgeous girls and boys in luxe party settings, each with the longest legs, the glossiest hair…so naturally why would we choose anyone else?! But otherwise, Warhol. Being a fellow party animal, I think he would do a good job. The parties that Ric & I came to host together, in retrospect, could be interpreted as a nod to The Factory; a meeting point of the bohemian, drag queens, celebrities and fabulous nobodies. And assuming Brooks or Warhol were other wised engaged, we'd opt for Corinne Day, the 90's photographer who had the brilliance of recording real life in its intimate and candid moments. Her documentary style of photography would have captured the intensity of our infatuation with each other.
If you had to choose an artist from the past or present to collaborate with on new prints, who would it be and why? 
We would commission William Morris to collab with Leonora Carrington, the surrealist artist.
Think they'd create a potent riot of flowers and animals as never seen before!
What is the most interesting museum to visit in London with family?
The Natural History Museum's Spirit collection which houses some 20 million animal specimens stored in alcohol; it's awe inspiring! But if we're talking art, and they're up for it (it often felt like pulling teeth when taking our boys to galleries once past a certain age!), our favourite is The National Portrait Gallery. Portraits from the historical to the modern day, faces up close, leaving you to ponder on what kind of life they had. Love the intrigue in that.
The brand's IG account is a window on Art, where you post many inspiring works and artists. Imagine you are an Art History teacher, which artists would you look forward to telling your young pupils about?
Oh what a lovely proposition! I would wax lyrical about The Bloomsbury artists Vanessa Bell & Duncan Grant, not only for their art but for their bohemian way of life that evoked such a freedom. I never tire of visiting Charleston their East Sussex home, the rooms feel alive with them.
Ric would choose Gilbert & George (he modelled for them many moons ago), for their bold photographic art pieces and their quintessential English and eccentric way of living. They openly consider themselves living sculptures. They are in fact soon to be opening a new museum dedicated to their work, around the corner to their home in Spitalfields. One to visit.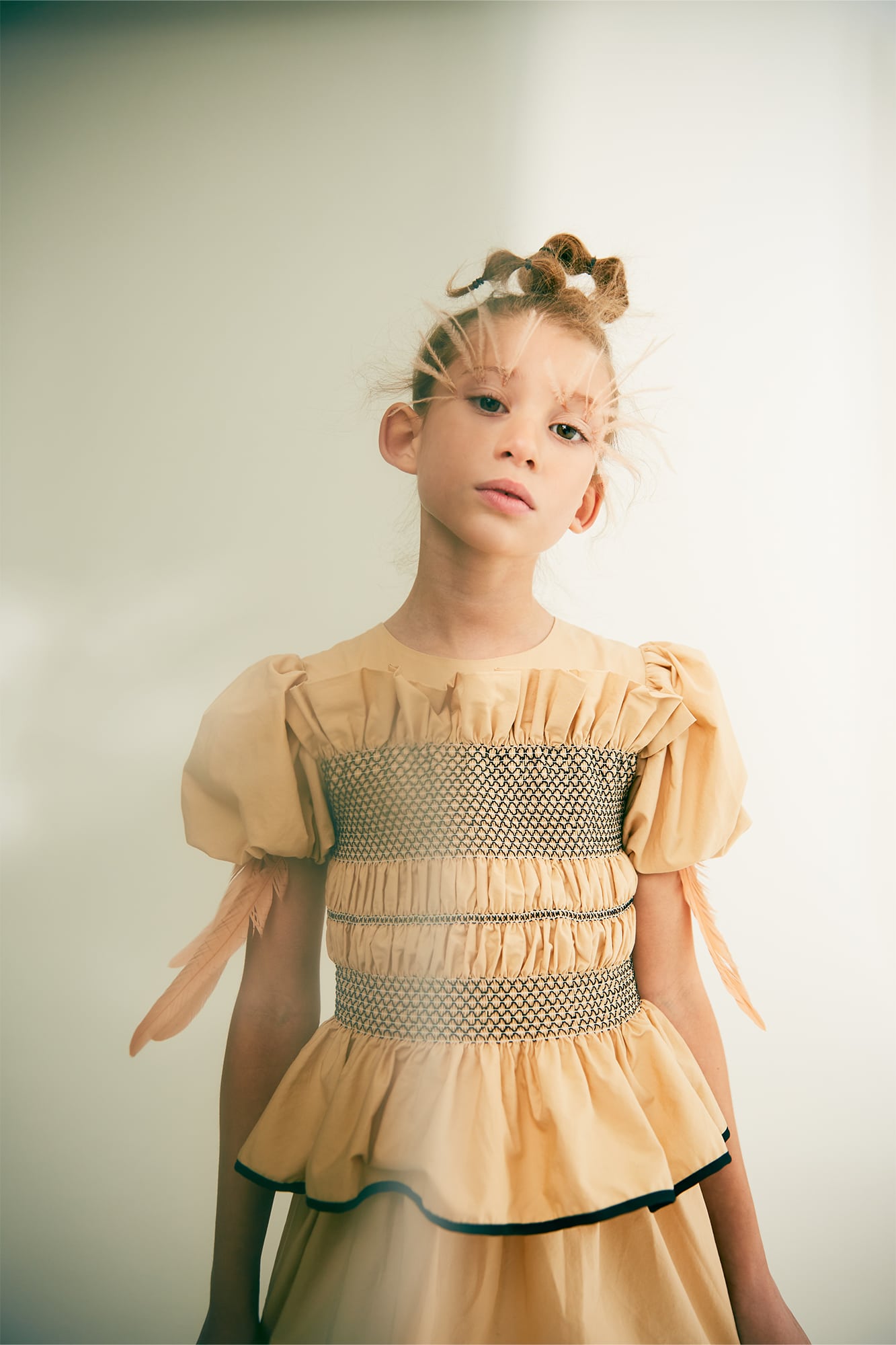 We imagine your house being similar to a gallery, which painting or work in general are you most attached to?
We have an eclectic collection of art, some noteworthy pieces others just vintage or simple finds. Sadly we have more than we can hang, so stacks of paintings lay in wait for their turn. We have to resist buying new for now.
My favourite piece in the house is a charcoal drawing by Antony Micallef called 'Animal Head'. It's a blurred almost grotesque drawing of a face, half man/half animal. It's pretty dark, which is something I am always attracted to. Ric's is a Sir Peter Blake piece called 'Love Me Tender' depicting a silhouette of a portrait of Elvis in the 70's, made entirely from diamond dust. White on white, you have to stand in the right light to appreciate it. He's a die-hard Elvis fan.
Have you also passed on your passion for art to your children?
Our boys have grown up amongst the art. Whether they have a passion for art is yet to be seen but from time to time they'll pose an interesting question about a piece which is always a delight. And they do occasionally ask if they can have a certain piece when we die!
How did the creative process of this SS23 collection, which combines Hellenic folklore with the 19th century Arts & Crafts movement, come about?
It began with a crush for the traditional Greek foustanélla white skirt. That voluminous short and flippy piece felt so right for now and opened up a closer look to all that is Greek. And it was the love of the simplicity of rural Greek life and that pared-back feeling that connected us to the Arts & Crafts Movement; that rejection of the mass produced and the agenda for appreciation of craft. It also feels very current.
And in general is there a precise moment when the inspiration for a new season is born or is it more a work in progress of various ideas?
I store away ideas as they occur, even if the season is way ahead so I can begin the design process with a 'box of treasure'. I already have a SS25 file on my desktop.
Don't you think the dark Mona Lisa dress is a bit sad?
Yes, a rather dowdy look.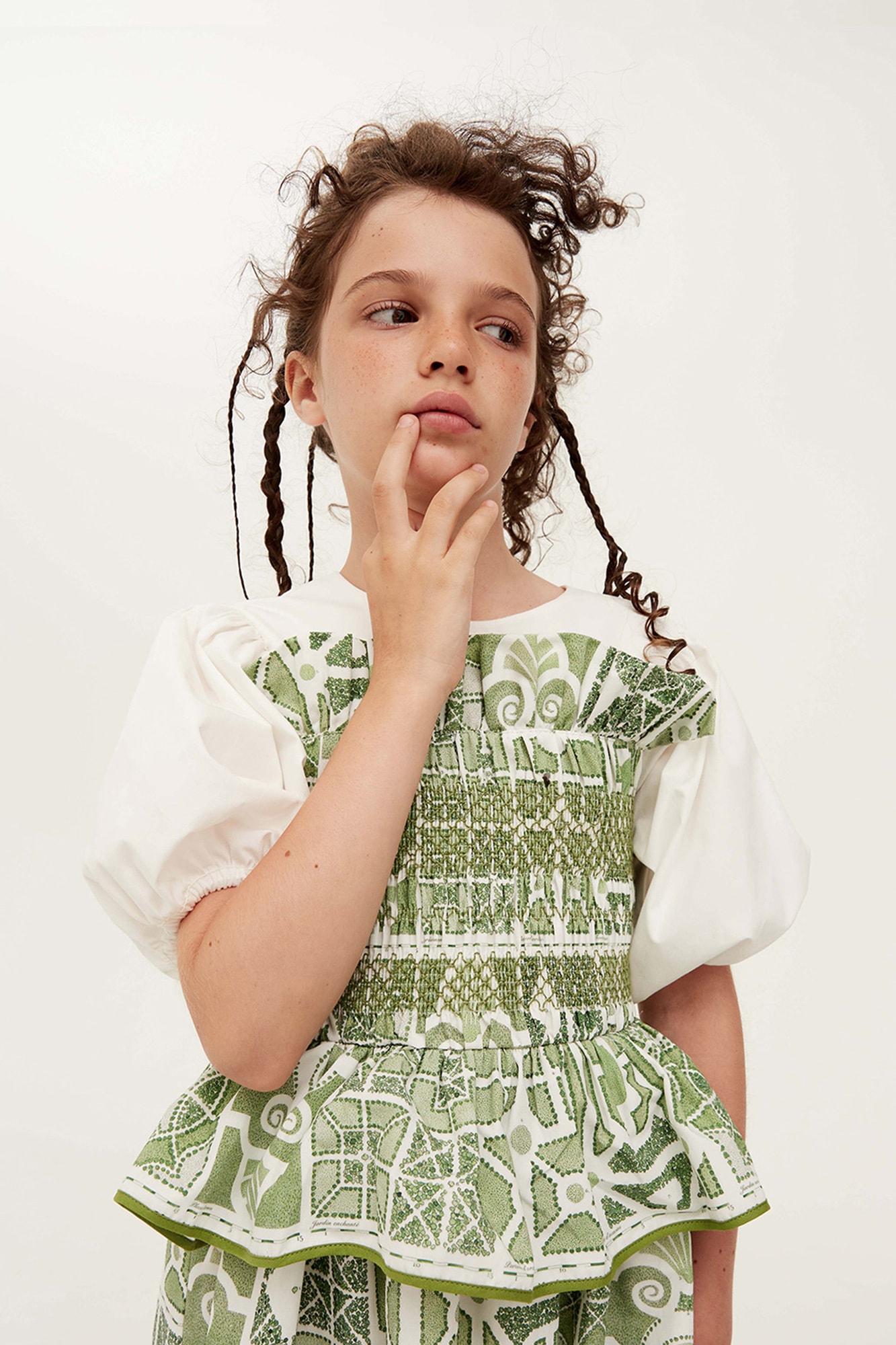 Which garment from your current collection would you see her wearing?
We'd dress her in one of our Parterre print pieces. A hand-painted print depicting a vintage plan of a parterre garden. The intricate and verdant symmetrical hedges of a formal garden would sit beautifully against her country landscape background. Think Da Vinci would approve.
And which would go best with the turban of the Girl with the Pearl Earring?
Our dress 'Know Full Well' in the Arts & Crafts print; a floral print with a blue lace detail to chest and hem. The print would liven her look yet retain some historical reverence. Can we make her a new turban in it too?
And finally, which one would you lend to Botticelli's Venus? 
She needs something dreamy so we would select our yellow floaty voile mini dress 'Square The Circle'. The fluted sleeves and voluminous skirt would flutter prettily in the sea breeze, and the short hemline would allow her to preserve sight of those great legs!
We love bright colour tones in your collections, what is your favourite mix & match?
Selecting the colours for the collection is my absolute favourite part. Pairing colours together is a beautiful discovery and I frequently fall in love with so many colours, hence you will always find a multi-stripe in our collections.
Before fashion, you and Ric used to organise parties… which art greats would you have invited for a successful evening? 
I think it would be rude not to invite all the artists that we created themed parties for; Jeff Koons (The 'Luxury & Degradation' party), Piero Fornasetti (The 'Fornasetti: Designer of Dreams' party) and Salvador Dali (The 'Oh So Surreal' party). The three of them dancing on a podium to Fat Tony, or cosying up to Boy George's eclectic chill-out room soundtrack would make for an interesting evening.