Linda Raituma
text by Enrico Fragale Esposito
It's funny, every time we decide what the theme of our issue will be, we discover with amazement that the designer of Latvian brand Paade Mode, Linda Raituma, had the same inspiration… yes, but for the next season. It is as if we were on the same wavelength, but in two different seas. Finally, after nine issues of our magazine and several collections of the now internationally renowned brand, the creative processes on both sides have aligned like the best combination of planets: we launch the Art issue and Linda comes out at the same time with a SS23 collection inspired by both Botticelli's Primavera and Alexey Kondakov's surreal collages. Retracing her stylistic traits – sophisticated embroidery, delicate knitwear, elegant cuts – Linda has created original prints on luxury garments, bringing the romantic spirit of the Italian Renaissance back to a modern urban attitude. And so finally, as great admirers of her avant-garde brand, we fulfil our desire to interview her. Just think, we knew that as a teenager she played in a rock band, but we only now discover that before fashion, her life was in finance. Chatting with Linda, then, is a bit like travelling to Latvia, to whose origins she is proudly attached, and getting to know the history of a Baltic country to which we really want to go.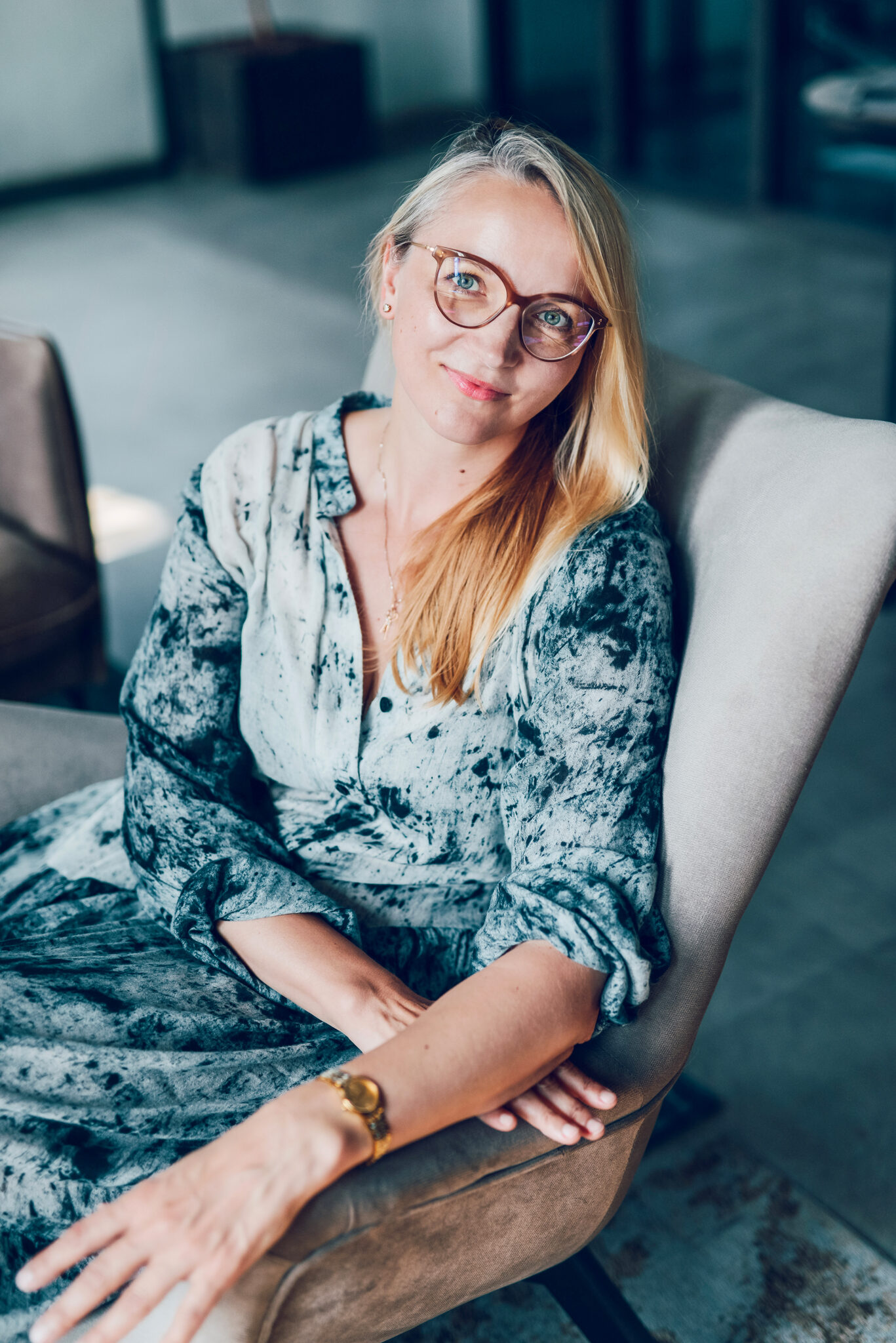 Your favourite artist? 
I have so many sources of inspiration to focus on one artist, author, composer or other creative personality. However, if I have to name one, I would like to highlight the artists of Latvian origin who have achieved worldwide fame: Mark Rothko, Vija Celmins, Barbara Gaile, Indrikis Gelzis. I feel like I resonate and feel their art on a DNA level!
A work of art you couldn't take your eyes off? 
The most beautiful work of art is the nature of Latvia: forests, swamps, meadows.
How did your career in children's fashion start?
I radically changed my professional life at the age of 30, when my second child was born. I had reached the highest peaks in business and marketing of financial services at leading institutions in the Baltics. I am grateful for the opportunity I was given at that time, even if it meant my sanity. My previous life was very successful, but this new career, in addition to success, brings maximum fulfilment, personal growth and eternal youth 😊. Creating for children, living in a stimulating and effervescent environment, travelling a lot, meeting people – at the end of the day, all this gives me the feeling of being in the right place.
I made the decision to create the brand after receiving emotional support from family and close friends, the main guarantors of 'I can' and 'I will succeed'.
Your SS23 Romantic Monsters collection is inspired by Botticelli's Primavera. What struck you about the canvas and how did you translate the inspiration into garments?
Have you ever wondered what a classical masterpiece would look like in the "present day"? Every time I go to the Uffizi, I am struck by the details of the 'Primavera' and the warm, radiant colours of the Venus. From time to time, looking at it printed on postcards from Florence, I marvel at its timeless beauty. Still moved by Botticelli, I came across the surreal collages of Ukrainian artist Alexey Kondakov. I got carried away by the way he imagines classical figures in scenes of contemporary life. Thus were born the first sparks of Romantic Monster – Spring-inspired patterns and palettes infused with an urban vibe for the cool kids. The new collection combines the classic and the contemporary. And the kids wear the interpreted masterpiece for street life: the timeless and the modern in the 'present'.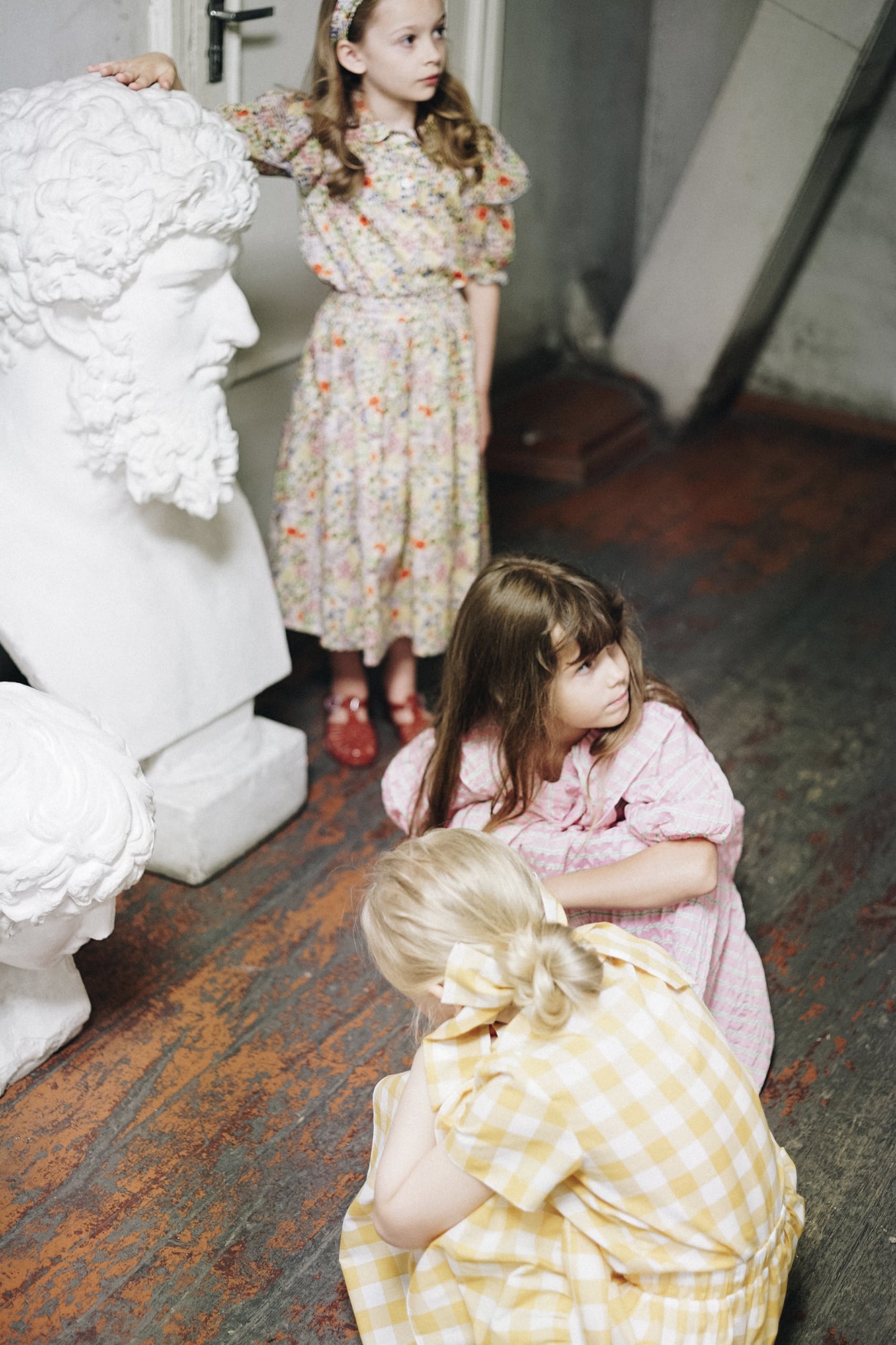 We have 24 hours to spend in Riga: make a plan to visit the city (including an art stop).
First, visit us for coffee and a muffin at the Paade Mode Studio where you can see the current season's collection. Then, a stroll through the Quiet Centre, the neighbourhood where Nature's greenery is combined with excellent examples of Art Nouveau architecture. The last stop on the walk is our National Museum of Latvian Art: the works of art collected here help us understand who we are, where we come from and where we are going.
If you feel like it, you can take the splendid opportunity to make a little diversions – it is only a 20-minute drive from the city centre to the Baltic Sea coast, which is beautiful in all four seasons.
And finally, delight your palate in one of the city's many fine cafés or restaurants. My favourites are: for breakfast Mulberry, for lunch Sienna or our Ukrainian neighbours Borščs,
for dinner the three-chef restaurant
Tam labam būs augt.
Which artist from the past or present would you invite to dinner and why?
I would invite Latvia's first fashionistas, who largely determined the style of Latvian women at the beginning of the 20th century, when our country was founded.
Which fashion designers do you think can be defined as artists more than others? 
The first that comes to mind is the recently deceased British fashion legend, the punk grandmother Vivienne Westwood. I first discovered her while I was still working in a bank: her creative freedom seemed something unattainable at the time. I appreciate her influence, which goes far beyond the boundaries of fashion – setting in motion broader social processes, being a spokesperson for significant currents that are shaping this time. Her attitude, her commitment to ethics and her ability to excite, inviting us to look at much wider things with her clothes, is what makes her a true legend.
You have been to Florence, Paris, Copenhagen and New York, what can you tell us about the fairs? 
In my opinion, each one has its own character, its own vibes and its own audience. FW23 was the first season where we felt the return of fair life in full swing, especially from the point of view of customer turnout. It was intriguing, exciting to see how tastes, demands, possibilities have changed.
Trade fairs have always been an essential part of our sales strategy. During the FW23 season, it was important for us to feel our strength and see the challenges in the opportunities that the global children's fashion market currently offers.
In the current strategy, we see Pitti, Playtime Paris and NY as a solid base. But everything flows and develops, and the pandemic has taught us to work successfully outside the trade fair system, which in turn opens up other boundaries of creativity and possibilities.
Your collections are very romantic with a sophisticated touch – which more minimal brands can go with your clothes?  
You should ask this question to our customers. I am in favour of creative experiments and reject stereotypical, standardised approaches and rigid boundaries. I welcome any photo where I see exactly the mix-and-match approach, the real life of our garments on the streets. I especially like to observe how the guys coordinate their image, guided by their personal tastes and daily plans. Street style is the true mirror of fashion.
Greet us with a word in your language. 
Labrīt! (Good morning!)