Niccolò Matteo Monicelli
text Patrizia Mezzanzanica
Dreamer, Warrior, Altruist. These are the words Niccolò Matteo Monicelli uses to describe himself, the managing director of Simonetta Group, who has the task, largely already accomplished, of making a historic children's fashion company the largest Italian luxury kid's wear platform. Originally from Rome, where he lives, he commutes between Milan and Jesi in the Marche region, where the Group is based. Of Rome he loves the light, unique in the world, he knows Milan very well, because for many years it was his work base (excluding the London and American interludes) and Jesi is the recent discovery, a small town where it is possible to combine work and excellence, with the quality of life and physical and intellectual wellbeing. Each of these cities has a place that is particularly dear to him and he frequents assiduously: the Tennis Club at the Foro Italico in Rome, the Navigli area in Milan, where the new showroom is located, and Alison and Andrea's restaurant in Piazza delle Grazie in Jesi, which has become almost a second home for him. If he were to advise a tourist what to visit, it would certainly be San Clemente in the capital, because from there you can really see the 'stratification' that has taken place over the centuries, the Cenacolo in Santa Maria delle Grazie in Milan, and the Pinacoteca Comunale in Palazzo Pianetti, where there are no fewer than five masterpieces by Lorenzo Lotto, in the small town in the Marche region. He is married to Uberta and together they raised Leonardo, who gave him the most intense emotions. Although they are very close, Leonardo and Niccolò Matteo have different characters. While the former is a calm and thoughtful boy, but also determined, living school without anxiety, his father is only just arriving at this Zen stage. A question of generation, perhaps, each having its own characteristics, or, more likely, an expression of how a good relationship works, where each is willing to learn from the other.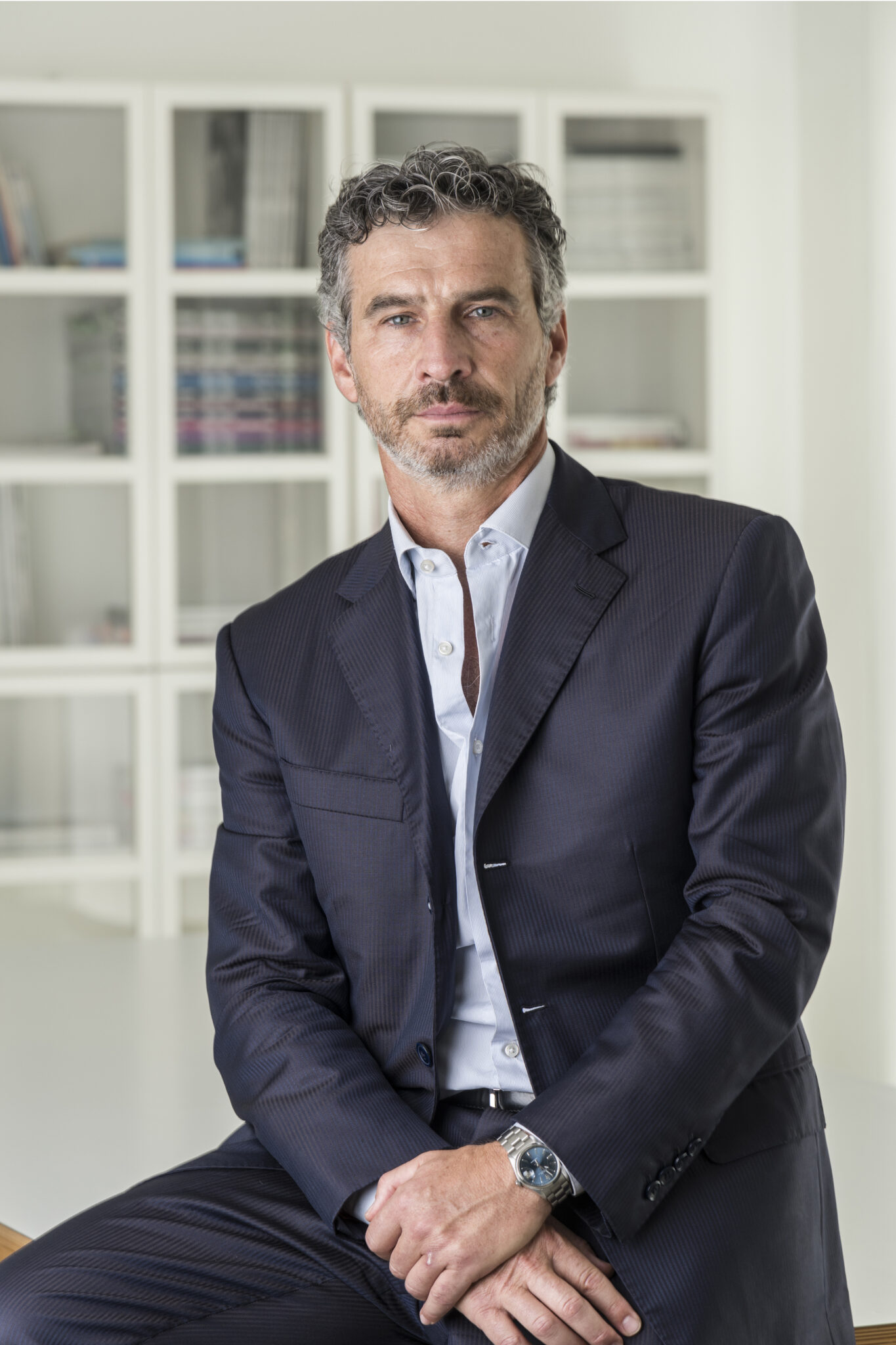 Since 2019, you have been CEO of Simonetta SpA, a historic company that is going through a major revolution. Can you tell us about it?
Compared to the '80s and '90s, the market has completely changed. Back then, children's brands lived off collections that only represented that reality, then the big maisons arrived and they revolutionised everything. The identity of a children's brand, especially in the luxury sector, must now also have a reference point for adults. This is the future. The big brands are growing at between 6 and 10% a year and have not only conquered the market, but created new ones. On the other hand, Simonetta's know-how of people, contacts, knowledge and professionalism could not be lost. And could not be lost the company itself and the production chain that was built, because our project is also based on these foundations: to create the ideal platform for producing and developing children's luxury collections.
What stimulates you most about your work?
The possibility of creating something unique and demonstrating that small and medium-sized enterprises in Italy, albeit in a very small segment, can become a global reality of absolute value. We have plans to grow more, and more consciously. The company has a gym, a swimming pool, two relaxation rooms with a fireplace, we are building a small basketball court, there will be a small football pitch where I can already imagine passionate challenges, more than 100 olive trees grow and bear fruit on our land, and we will soon have a photovoltaic system: all projects to grow not only in terms of volume and profitability, but as a company that is out of the ordinary. My mentors are Adriano Olivetti and Alessandro Rossi. I firmly believe that in a working environment people should be given the opportunity to enjoy themselves, because they create, dream, smile, and toil (of course they toil!), but in an intellectually and culturally stimulating environment. We are investing a lot. We bought the villa that was annexed to the property and changed its use from residential to office because we want to send the message to the area that we are not moving from there, and that there are all the conditions to develop a great story. If you add to this the fact that for me, fashion and luxury have always represented an ideal of perfection, I'd say I've hit the jackpot!
What goals have you set for yourself in developing the Group?
To grow to become the largest luxury platform in the children's sector by offering a diversified and personalised service. There are brands for which we take care of everything: we develop the collection, make the models and prototypes, produce it and, through our highly organised commercial network , take care of distribution. There are other brands that distribute from their perfectly equipped logistics centres. And then there are brands that, with us, only make part of their production, for example knitwear or outerwear, and then take care of the marketing themselves. We hope to soon become an aggregator of small brands to join the Group as proprietary brands to add to Simonetta. This is all part of the strategy that has transformed Simonetta brand into Simonetta Group.
Is this diversification of the offering what Simonetta is banking on to acquire more and more licences?
I look at children's collections in the same way as I look at eyewear, perfumes and cosmetics. All the big brands have these lines, which they consider to be adjacent to their core business, and rely on specialists to produce them. Children's production is very difficult, distribution is completely different from the adult ones, so it's much better to rely on those who are more experienced. This guarantees reliability and a more correct positioning of the product.
What do you feel you can communicate positively to companies in the sector that are facing a global economic crisis?
I think they have to be realistic. The market has changed. There are external factors that are now of great importance and no longer represent an extraordinary event but the norm. It's not enough to have a good product, they have to understand the new markets and understand if there are structural changes. Small and medium-sized enterprises must grow in size, or they must consolidate, because all the know-how that exists in the area must not be lost. At Simonetta we protect our suppliers by making them part of a single network, without leaving behind the smaller ones who, on their own, could no longer make it.
Has there been a brand acquisition that has particularly gratified you?
Perhaps the one I am most proud of is Stella McCartney, because it was a brand that was produced "in house" and sold very well, but the company, for the reasons I mentioned earlier, preferred to rely on a specialist. The results of the first two seasons are excellent, which means that our strategy is working.
Tell us the cornerstones of your management philosophy!
1. Ethics, sustainability and diversity. Ours is a company made by women for women, who represent 85% of the entire workforce, including two of my four directors.
2. Meritocracy. Sprinkled productivity bonuses are useless. There are those who deserve to have salary increases every six months and those who must have the one established by the national contract.
3. Speed of decision-making. It is better to take ten decisions, two of which are wrong, than to take only two, because a decision not taken is already a wrong decision.
4. Do something different, don't always apply the same patterns. For our safety manager, for example, opening the pool and doing aqua gym classes, as I proposed, is complex. I will work in that direction anyways because  want a fun and bubbling environment, not a grey and boring corporate reality. Monday mornings should not be a sacrifice to go back to work, but an opportunity to catch up with colleagues and talk about the weekend, perhaps in front of the fireplace. Then we will have to work hard, but in a nice environment. It's a bit like when I was in high school and every Monday I met up with my classmates: we talked about philosophy, history, Greek. I was happy, and I would love to bring that spirit back here.