Paula Solveira
by Enrico Fragale Esposito
Still a very young brand, TOM & BOY, which, however, has already achieved notable milestones such as being present, together with high-profile names, at an exhibition in Brussels dedicated to 200 years of children's fashion. Creator and designer Paula Solveira does not bow to dated trends and mass taste, that are now dominant in the industry, but drives against the tide with her gender neutral brand, even venturing into the metaverse where mini avatar models wore last summer season's garments. And now for FW22 comes a collection of geometric cuts, warm colours and artistic prints dedicated to the Oscar-winning novel Captains Courageous, in which the theme is the formation of one's own personality… and TOM & BOY is full of it!
Your FW22 is inspired by the novel, later turned into a film, Captain Courageous… what struck you about this story and how did you translate the inspiration into garments?
I love films starring children or in which children play an important role, I have quite a long list of them, so when I look for inspiration or a concept for collections, I usually use them as a reference. For this collection, I wanted to explore the figure of the sailor in winter, as it is a theme that is usually dealt with for summer campaigns.
Captains Courageous is about personality formation in children and the importance of having role models at that age. The garments have an almost vintage character, with rusty tones, and of course both the palette and the silhouettes refer to the world of sailors and the sea.
Which film seen as a child moved you the most? And who was your favourite star?
My favourite films as a child had nothing to do with the Disney world. In fact, my fondest memories are of 80s adventure films… The Goonies, Karate Kid or Gremlins. Now I see that world has resurfaced in series like Stranger Things and I love it.
But my favourite character was Pippi Longstocking, a real punk girl, breaking gender and behavioural stereotypes. A perfect reference to build one's own identity.
Why did you give the name TOM & BOY to your brand?
From the beginning, I wanted the brand to reflect an idea of fashion in which gender is no longer relevant. The word tomboy reminded me of many characters I had seen in films, such as Jo March in "Little Women" or Scout Finch in "To Kill a Mockingbird".
The term goes beyond the simple concept of a girl wearing boys' clothes, but describes an attitude of rebellion against the hyper-feminisation of fashion. Adding the conjunction "&" in the middle I think is even more inclusive.
You collaborated with a virtual image artist for a video presentation of your last SS22 collection. How do you see the future of fashion in general, and children's fashion in particular, linked to the new frontier of the Metaverse?
Fashion is always ahead in everything… the first websites, the first streaming, and always thinking ahead (we present collections a year in advance).
So the future to come (although I'm not sure if it is strictly related to the Metaverse) I hope will be totally sustainable and ethical.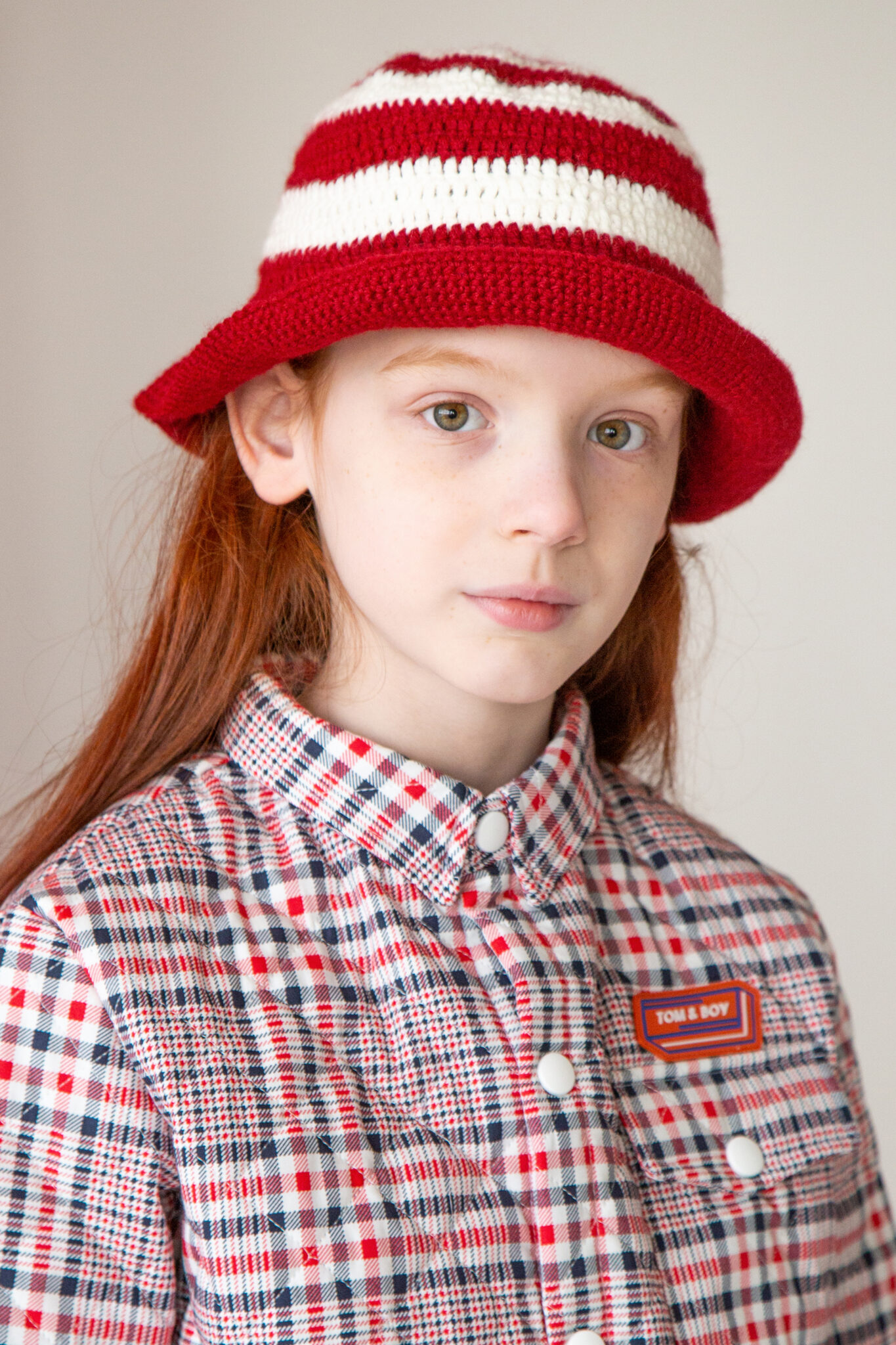 TOM & BOY appears in the context of an exhibition currently being held in Brussels on the history of children's fashion, alongside big names such as Baby Dior, Balmain, Lanvin, etc… how did you get involved and how exciting is it for you to see your very young brand featured in such an important exhibition?
The curators of the exhibition visited Playtime in Paris in January 2022 and there they selected the outfit that is on display in Brussels. It is the set 'Le Costume Marin' inspired by the classic sailor suit that children wore in the 19th century, but totally revised according to current aesthetics and comfort. It fits well into the discourse of the exhibition, and for me it is an honour not only to have been selected, but also to be able to share such an incredible space with other prominent brands.
Tell us the name of some brand with which you would see your pieces mixed well.
More than a specific brand, I like the idea of someone taking one of my pieces and making it the star of their own styling. And there's also a phrase I love, 'if it doesn't match, match it more' – make it something Pippi could wear!
At what point in your life did you decide to become a fashion designer?
I have always been a fashion designer. My family keeps a drawing from when I was 5 or 6 years old in which I had portrayed Tom Sawyer dressed in Comme des Garçons.
I had a notebook with 500 pages of my fashion collection, which I still don't know why I called Tangiers. Without ever having been there! A lot of models came out of that notebook and we took them to the seamstress to be made for me.
Your favourite piece from this collection?
The one on show in Brussels.
There are so many young starlets, who would you like to see wearing your clothes?
I feel very happy when I see a child wearing TOM & BOY, so any movie star is welcome!
Can you tell us something about your next SS23 collection or any other future projects?
I love being able to collaborate with other artists for the TOM & BOY collections, that's my immediate project.
Also, I just discovered a film that has inspired me a lot for a future collection and I can't stop thinking about sharing it with everyone who hasn't seen it. 😉