Emanuela Nurra & Paola Talamini Minotto
text by Enrico Fragale Esposito
C'era una volta (Once upon a time) is the beginning of every fairy tale, many of which have since been turned into films, in which there is always a protagonist playing the role of a heroine… a princess, a fairy or a simple girl trying her hand at her destiny. To all these figures Emanuela Nurra and Paola Talamini Minotto dedicate the brand's AW22 collection, Fall Fairies. The power of cinema is to take us for the duration of the screening into a parallel world, the same world in which the label wants to accompany the little girls who wear their garments. To the point of making us ask: is this a dream or reality?
It is a collection in which the romanticism of a tale set in the French countryside, the allure of a modern Parisian story, the vintage of childhood memories in Sardinia, and the avant-garde touch of a future yet to be written, that of Emanuela's new life in Japan, come together. We met her, the creative mind, and Paola, the brand's architect, in a two-way interview.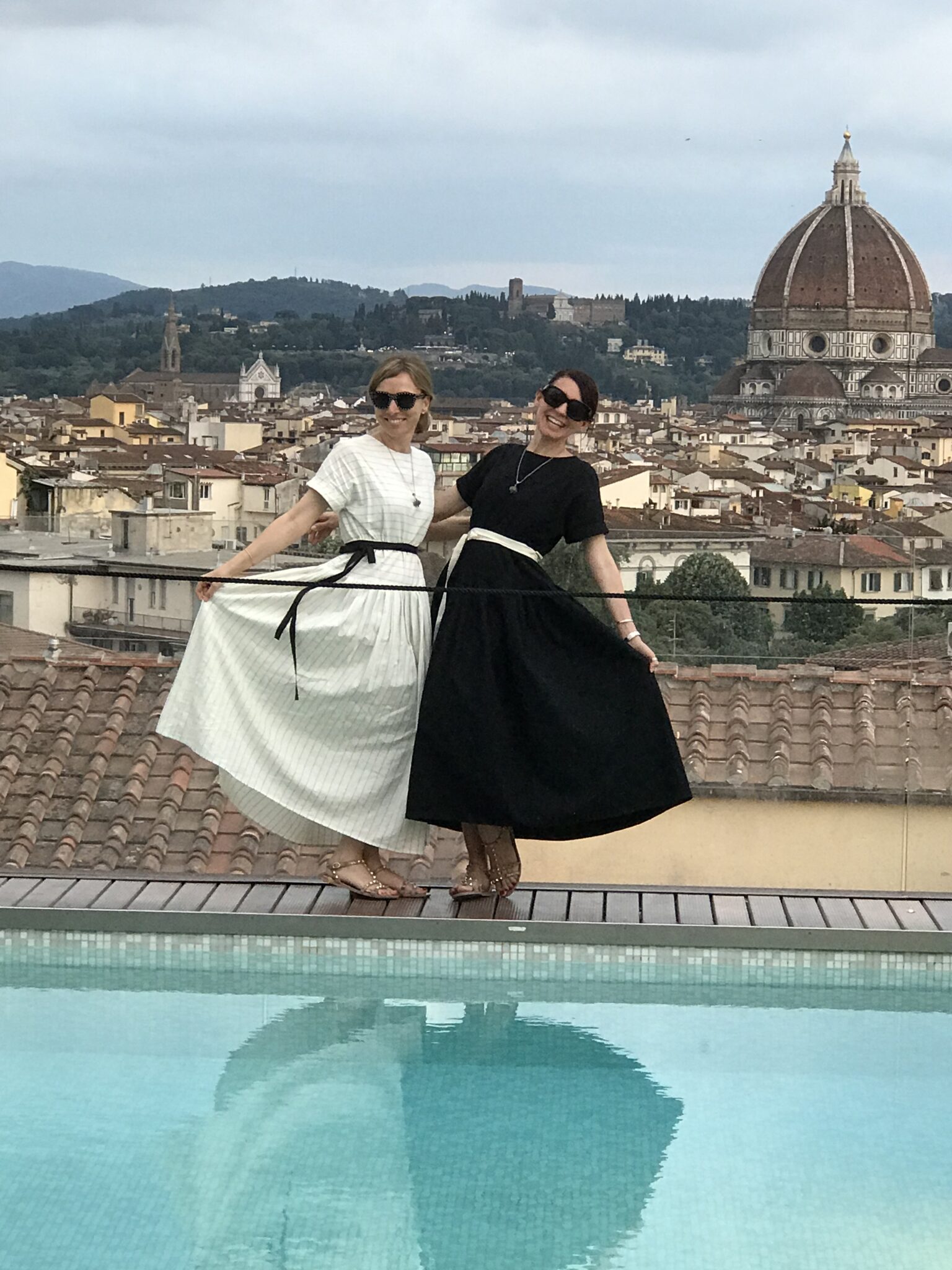 Emanuela Nurra
@emanuela_japan
Paola Talamini Minotto
@thepinkdumpling
The FW22 collection is called Fall Fairies, it was inspired by the magical world of fairy tales… which is your favourite? 
Emanuela: My all-time favourite is Cinderella!
Paola: Mulan, the Chinese warrior princess, also adored by my daughter Olivia, who has been practicing KungFu in Shanghai for a few years in the hope of emulating her heroine.
Yours was a movie meeting… how did it happen? And how did you share the roles?
Emanuela: It was really a stroke of luck, we met in one of our favourite bakeries in Shanghai, where I invited Paola to see the first C'era una volta collection and she immediately fell in love with every item she bought! We haven't been apart since! I have continued to create my collections and put in all the passion and experience I have acquired in the big fashion houses such as Dior, Fendi, Givenchy… and Paola in the same way, with her business background acquired in Benetton, Diesel and Burberry, bringing C'era una volta to the most beautiful multi-brand boutiques in the world!
Paola: Ours was a completely chance meeting. I was having a coffee with my husband at Baker & Spice in Shanghai, and Emanuela was sitting at the next table talking to a friend about fashion and children's collections. I couldn't resist and broke into the conversation. Then I bought the entire collection for my daughter. Besides becoming very good friends, we decided to work together on the project and take it to become a global brand. Emanuela is the creative soul, I dedicate myself to the business, although all important decisions are shared.
If C'era una volta also dressed adult sizes, which actress would you see wearing the brand? 
Emanuela: Emma Watson and Julia Roberts.
Paola: Actually we also do a women's capsule and the dream would be to dress Julianne Moore and Keira Knightley.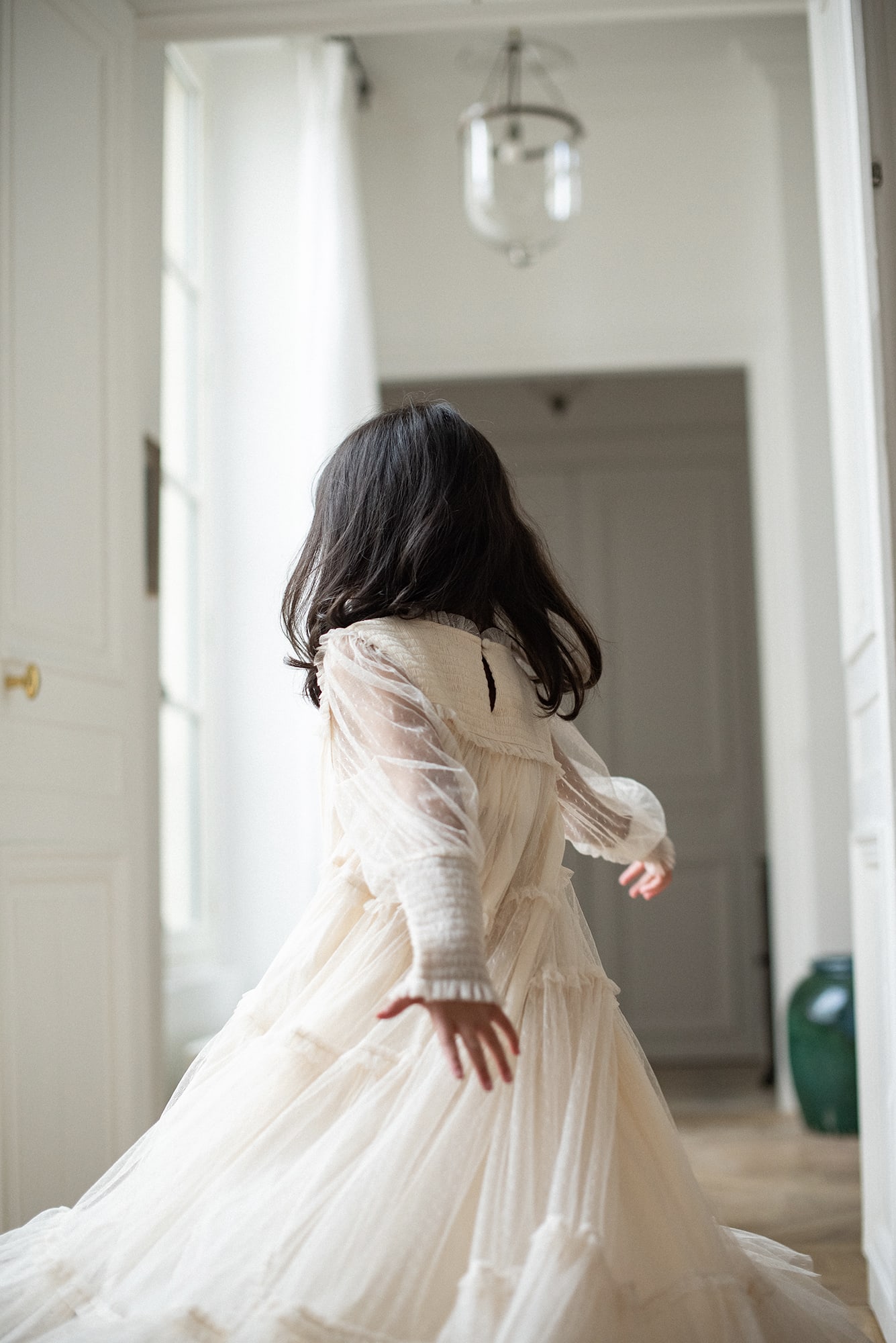 How is Italian cinema perceived in Shanghai and Tokyo? Which films have been successful and which faces of our big screen are known in the East? And tell us three Asian film titles that you recommend?
Emanuela: In Tokyo there is the Italian Film Festival during Golden Week (a period dedicated to special events) in May! This year there was the 22nd edition! Recently, Paolo Sorrentino's The Great Beauty was so successful and when talking about Italian actresses, the Japanese immediately think of the fabulous Sophia Loren. Three films I loved: Midori (Korean), Sweet Bean and Our Little Sister (both Japanese).
Paola: In Shanghai every year in June there is the Shanghai International Film Festival where many international films are presented. Recently, a Chinese film 'The Italian Receipe' was released, reinterpreting Roman Holiday and La Dolce Vita in a modern key.
Which piece from this collection would you choose for a romantic movie scene? And would you like one of your garments to be worn by a heroine of an action movie?
Emanuela: For a romantic scene I would choose the Silvia Dress in corduroy… with its smock and lace details… I also love the black version perfect for any action heroine!
Paola: For a romantic scene I would choose the soft kimono-shaped puffer in white… in the black version it lends itself perfectly to a modern heroine.
The film you would see and see again and again?
Emanuela: Roman Holiday!
Paola: Breakfast at Tiffany's.
The brand name is reminiscent of fairy tales, and your garments are designed for modern princesses… but are you finally going to create a line for prince charmers too? 😉
Emanuela & Paola: We are constantly working to expand our collections. After the women's capsule and the recent introduction of the baby in SS23, we are also working to introduce the baby boy in the coming seasons.
We plan to visit you first in Shanghai and then Tokyo. Where would you take us?
Emanuela: Apart from visiting the fantastic Zen gardens and the wonderful temples, I would take you to Harajuku to admire the incredible Tokyo street style! A mix for all tastes!
Paola: Cycling through the French Concession, the most European district full of small restaurants and trendy shops. In the West Bund on the riverfront for art galleries, and in the Bund towards sunset to admire the beautiful Pudong skyline.
You can only choose one garment from this collection to be awarded the Oscar: which one and why?
Emanuela & Paola: The ivory Grace Tulle Dress because it's so red carpet!
Tower game: Sophia Loren or Catherine Deneuve? Bradley Cooper or Riccardo Scamarcio? Fellini or Sorrentino? Comedy or thriller? Multi-screen or art-house cinema? Popcorn or gummy candies?
Emanuela: From the tower I "throw" Catherine Deneuve, Riccardo Scamarcio, Sorrentino, thriller, multiplex, popcorn.
Paola: I agree with Emanuela, but I keep the popcorn!
Greet us with your favourite word in Chinese and Japanese.
Emanuela: また会いましょう to be pronounced Mata Ne, meaning see you soon.
Paola: 没问题 (Méi wèntí) means: no problem 😉